Want to keep your special event at the top of your guests' minds? Whether you're hosting a wedding, birthday party, anniversary party, graduation, community festival, or even a special sales event, save-the-date cards plus magnets is a powerful combination that helps ensure your guests don't forget about your special event. Here's how to boost attendance with save-the-date cards and magnets.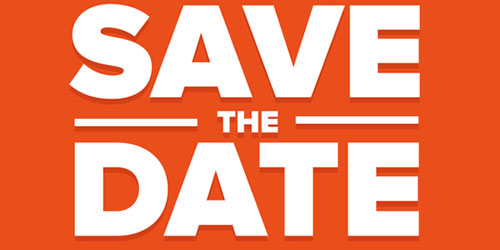 Start with invitations
Your event invitations should present the details of your event to guests – not just the date and time, but also information such as menus, directions, how many additional guests they can bring, and any background information on the event. Event invitations are your introductions, and they're often sent early enough to allow travelers and others to plan to attend; which means they can also easily get discarded or lost in the shuffle.
Add in save-the-date cards and magnets
You can include save-the-date cards and magnets in your invitation package; or, if you're sending invitations really early, you can send them in a second mailing closer to your event.
Save-the-date cards are good for being thumbtacked to bulletin boards or placed on refrigerators with existing magnets; save-the-date magnets are perfect for refrigerators, filing cabinets, and other metal surfaces. Cards are cheaper to print, while magnets are more convenient – and they're also useful, which increases the likelihood they'll be posted in prominent places.
The best packages include both so guests can place them wherever they'd like. Your goal, of course, is to ensure your invitees see your event every time they go to the fridge for a glass of milk, open a filing cabinet drawer, or glance at their personal or work bulletin boards.
Your save-the-date cards and magnets do not need to include all your invitation details, but they should include:
The name of your event
The date
The time
The location
Anything else you feel your guests need to know
How to make your own save-the-date cards and magnets
You can use PsPrint's free design templates and online design tool to make your own save-the-date cards and magnets. Here's how it works:
Visit the PsPrint design template gallery for save-the-date cards and/or magnets
Choose your favorite template(s) and color scheme
Open your template in the design tool, then follow the prompts to customize it with your own photos, logos, and text
When you're done designing, you can review a free downloaded PDF or go straight to printing options. Your save-the-date magnets and cards will be printed and delivered to your door in a few days; or, if you'd prefer, you can take advantage of mailing services to have PsPrint place your save-the-date cards and magnets in envelopes (with or without invitations) and mail them directly to your guest list.
Ready to market your special event and boost attendance? Get started with save-the-date cards and save-the-date magnet printing today.