You probably know that posters are versatile marketing tools that can be used in a variety of applications: retail storefronts and displays, trade show booths and conferences, and corporate events. However, traditional posters can take time to hang perfectly, and they're subject to damage if you take them on-the-go. Both issues are solved with mounted poster printing!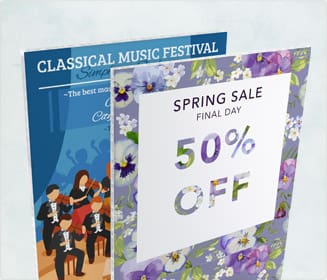 Mounted posters make marketing easy by:
Ensuring a perfect, flat, crisp appearance anywhere you hang them
Resisting travel damage – no rolling or folding
Increasing marketing placement options: hang or lean them anywhere
Let's take a closer look at what makes mounted posters perfect for marketing your business or nonprofit organization.
Mounted posters are durable – and eco-friendly
Mounted posters are different from standard posters, which are typically printed and rolled. Instead, mounted posters are high-quality prints that are attached to a lightweight yet durable backing.
You can choose between quarter-inch and half-inch honeycomb backing that is both rigid and dent-resistant. The backing is recyclable, too, so mounted posters are an eco-friendly option – unlike foam-based backings – which makes them perfect for environmentally conscious businesses and nonprofits.
Mounted posters are the most versatile posters you can print
There are plenty of great ways to use mounted posters to market your business or organization, including:
Stand mounted posters in retail storefronts
Lean mounted posters against retail displays to highlight benefits and special offers
Hang mounted posters above bestselling and sales items
Stand mounted posters in your trade show booth
Hang mounted posters in strategic locations at conferences
Brand your company by hanging or standing mounted posters at corporate events
Show off your school pride by printing mounted posters for school bake sales
List seasonal restaurant or coffee shop menu items on mounted posters and place them in prominent areas
Highlight your nonprofit's successes by hanging mounted posters at fundraising events
Make your event stand out in public areas with a mounted poster – no bulletin board needed!
Mounted posters are easy to use – and they get noticed
Mounted posters come ready to hang or frame; or, you can use them as-is in temporary applications. Best of all, you can print the exact number of mounted posters you need, from 1 to 50, so you can get the best bang for your marketing buck (just like short-run poster printing).
You can print mounted posters in a variety of sizes, too, from 12-inch by 18-inch all the way up to 24-inch by 36-inch, so they're practically impossible to ignore.
If you're seeking a versatile, durable marketing tool that puts your brand, products, events, and/or fundraisers in front of a mass audience with minimal investment, mounted posters are an exceptional option. Print mounted posters at discount prices today!