Guerrilla marketing presents cheap ways for small businesses to market their products and services, but many "advertised" guerrilla marketing tactics are elaborate and well outside small business budgets. The real root of guerrilla marketing is a cheap, unexpected and memorable strategy; you don't have to manufacture huge outdoor displays to command customer attention. All you really need are ideas like the following five powerful (yet cheap) guerrilla marketing tactics for small business.
1.  Creative stickers
Print stickers that work with their environments to generate interest. The more creative, the better; and, you can even be a bit funny. In fact, funny stickers are some of the best guerrilla marketing tools available. In this example, Demographic Tattoos placed stickers on bathroom mirrors to promote it's "try before you buy" philosophy.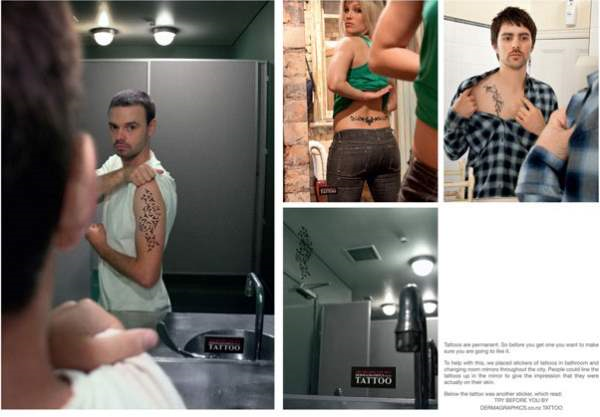 2.  Engaging flyers
Flyers are perfect for guerrilla marketing, especially when they're die cut to encourage customer interaction. Such flyers are practically impossible to ignore and beg potential customers to snag your number. In this example, an MMA business attached flyers to trees with an attention-getting karate-style headband or black belt.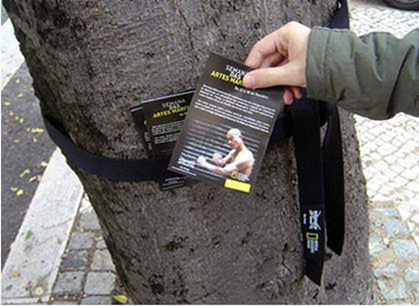 3.  Street team handouts: Postcards, flyers and more
You can employ a street team to hand out postcards, club card flyers, business cards and other promotional products to encourage customers to give your business a try. In this example, street marketing specialists Alt Terrain demonstrate how to command attention with a street team and promote an upcoming television program.
HBO Curb Your Enthusiasm Street Marketing in New York City and Los Angeles for Red Tettemer + Partners from ALT TERRAIN on Vimeo.
4.  Sidewalk chalk
One of the most affordable guerrilla marketing strategies for small business is to purchase a few sets of sidewalk chalk then set your favorite artist loose to creatively promote your company on local sidewalks, walls, and streets. Here, a website is promoted with colorful sidewalk chalk.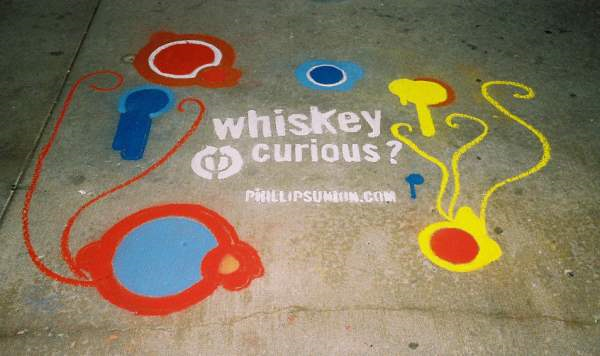 5.  Vinyl banners
Going big doesn't have to be expensive; printing a large-format vinyl banner and staking it in a busy area is bound to command customer attention. This banner by Gavula Design advertises a city-wide shopping extravaganza to benefit the public school system.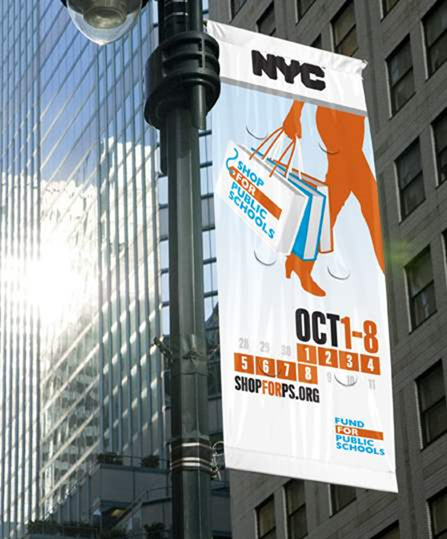 What are your favorite guerrilla marketing tactics for small business?