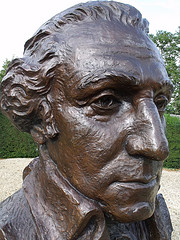 By definition, a holiday is leisure time away from work. Presidents Day, or Washington's Birthday, is classified as a federal holiday – but if you have a product or service to sell, Presidents Day is anything but a holiday.
That's because Presidents Day has become the Valentine's Day after-party, the three-day bazaar where marketers try to sell "everything else" they couldn't convince lovebirds to buy the weekend before.
It's when everyone from car dealers to retail department stores try to clear their inventory to make room for the spring rush. And for those with something to sell, Presidents Day means a lot of work.
In 2009, people were shocked when February's sales figures exceeded expectations for some industries, especially automobiles and Girls Scout cookies, the latter of which collected more than $700 million in sales. Certainly part of the automobile industry's was fueled by Cash for Clunkers, but it's worth noting that overall retail sales figures are expected to increase by 2.5 percent in 2010. If that holds true for February, the Presidents Day holiday could be very lucrative for diligent businesses.
Sure, you might have to miss out on a three-day weekend; but the profits from working those three days might be able to buy you a 10-day holiday the following week.
Image use Creative Commons license via Flickr.