Summer might be far removed from end-of-year holidays, but that doesn't mean it can't be an incredibly profitable season for your company. Use the following summer marketing checklist to inspire ideas to boost business – and profits – this summer. Mix and match initiatives to craft a well-rounded and memorable marketing campaign.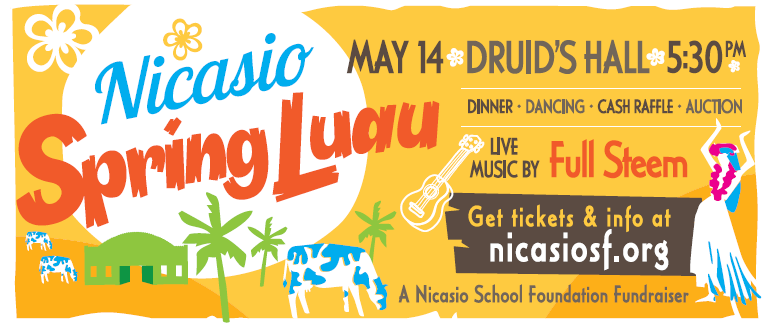 Banner for Nicasio School Foundation designed by Matthew Dong
Direct-mail marketing
Direct-mail is one of the best ways to reach a well-targeted audience. Try these direct-mail marketing tools this summer:
Postcards
EDDM (Every Door Direct-Mail) postcards are great for local marketing; otherwise, you can use a mailing list to target people who match your best customer demographics. Print triple-thick, color-infused ultra postcards to command attention at the mailbox.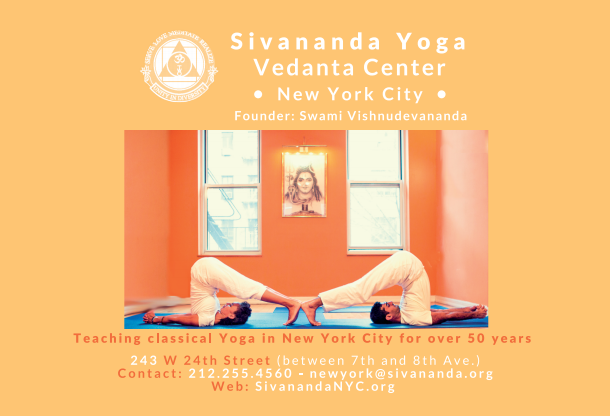 Postcard for Sivananda Yoga Vedanta Center
Sale letters
Personalize your approach with direct-mail sales letters printed on well-branded stationery and delivered in an attention-getting envelope.
Brochures
Sometimes postcards can't tell the whole story; brochures offer more real estate and, when you use stickers to close them, are lightweight and cost-effective mailers.
Catalogs
Create a summer catalog packed with your bestselling merchandise to entice customers to buy in-store or online. Make sure you feature large, full-color images to create desire and help customers make good purchasing decisions, which will keep them coming back for more.
Outdoor marketing
When your customers take to the great outdoors, your marketing strategy should follow.
Banners
Print banners featuring a hot summertime promotion, then strategically place them where they'll get great exposure to the masses as well as your audience. Busy roads and intersections, shopping districts, concerts, sporting events, festivals, outside your storefront and even near your competitors' stores are all good candidates for banner placement.
Yard signs
Banners not in the budget? Yard signs can be excellent alternatives. They're smaller, but they can help you reach more places for minimal investment. Plus, yard signs are perfect for home service businesses that want to show off their work: landscapers, painters, remodelers, lawn care companies, patio pavers, real estate agents, and more.
Stickers
Place your marketing message practically anywhere by printing stickers. Stickers can be affixed to walls, doors, windows, mirrors, benches, posts, vehicles (think bumper stickers and window clings), gas station pumps, and anywhere else you can get permission to place them.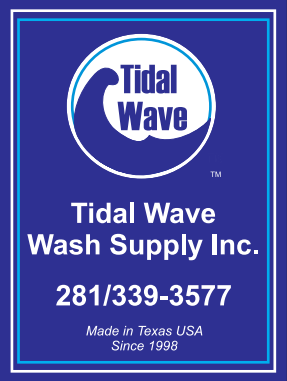 Stickers for Tidal Wave Wash Supply Inc.
Car door magnets
Take your marketing on-the-go with car door magnets. Car door magnets are much cheaper than vehicles wraps, plus they're not permanent so you can take them off when you're not in marketing mode. You can even recruit employees, friends, and family members to place car door magnets on their vehicles to help get the word out this summer.
Window clings
Turn window shoppers into paying customers will window clings, a perfect solution for strip mall retailers who watch a lot of foot traffic pass by their businesses. Large, colorful window clings command attention and help promote time-limited special offers; that is to say, they motivate impulse purchases that boost summer profits.
Door hangers
There's no better season then summer to take to the sidewalk and distribute door hangers, cheaper – yet more compelling – cousins to postcards. Unlike postcards, they aren't lumped in with the rest of the mail. Like postcards, door hangers are economical ways to deliver your pitch in a tangible format that must be physically handled. Keep costs low by recruiting volunteers to distribute your door hangers, then host a party afterwards to reward their efforts.
Sales and networking
Do you conduct sales calls or attend networking events? If so, you'll need leave-behinds to encourage follow-ups.
Business cards
The staple business networking tool is not only a great way to stay top-of-mind, it's expected at networking events and during sales calls. Print ultra business cards featuring triple-thick paper stock and a band of attention-getting edge color to make your brand stand out.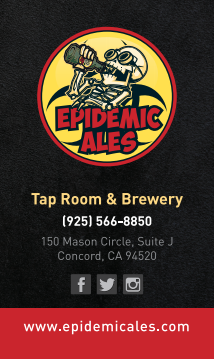 Business card for Epidemic Ales designed by Jon Merlin
Brochures and booklets
Brochures and booklets are excellent leave-behinds because they can reinforce your pitch and offer additional information to compel follow-ups and purchases. Strive to make your brochures helpful, and your company will gain the credibility and trust that leads to sales.
Sales sheets
Sales sheets are standard B2B leave-behinds, and if you sell business services or wholesale products to retailers, sales sheets should be a part of your marketing strategy. Perfect for wholesalers, distributors, business services, big ticket products and machinery, industrial solutions, and more.
Indoor marketing
Air conditioning brings people seeking to escape the summer heat and helps present opportunities for indoor marketing all summer long.
Posters and flyers
Posters and flyers can you market your products, services, and events anywhere there's a flat surface: walls, windows, retail displays, store countertops, and more. They also make excellent outdoor marketing tools and offer cost-effective printing options so you can maximize your reach with minimal budget.
Wall graphics
Place large wall graphics to draw attention to your bestselling and sales items – a good strategy for retailers. Service-based companies can use wall graphics to promote unique selling points and customer benefits, as well as introduce services customers might not be aware of.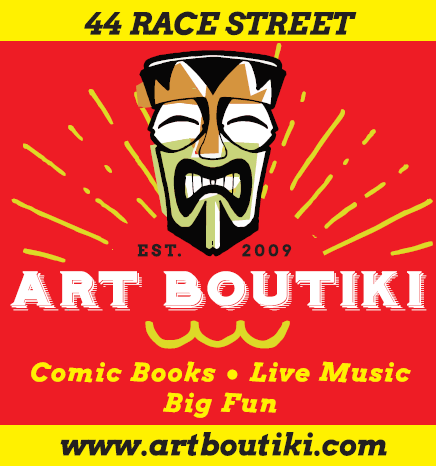 Wall graphic for Artboutiki
Rack cards
If you operate a restaurant, hotel, museum, theme park, water park, or tourist attraction, you should place rack cards in nearby restaurants, hotels, welcome centers, Chambers of Commerce, and anywhere else visitors frequent to learn more about what to do, where to eat, and where to stay in your area.
Table tents and coasters
Perfect for restaurants, bistros, pubs, bars, and grills, table tents and coasters can help market specials, entrées, desserts, drinks, and events. You don't have to operate a restaurant to take advantage of table tents and coasters; partner with establishments that serve your customers to get your marketing materials in front of them. One strategy is to print table tents featuring your promotion on one side, the restaurant's on the other. You pay for printing, and they make sure one is on every table at all times.
Online marketing
A well-rounded summer marketing campaign includes print, online, and media marketing.
Online advertising
Pay-per-click ads, Facebook ads, mobile app ads, and targeted placement ads can all help bolster your summer business.
Website specials
In addition to content marketing and search engine optimization, you can run specials right on your website that encourage customers to take advantage on your summer deals.
Email blasts
Build a mailing list comprised of customers and your target audience, and routinely send emails promoting your summer specials.
Social media marketing
Grow a fan base on Facebook, Twitter, Pinterest, and Instagram, then engage your followers with interesting, entertaining, and relevant content to grow your brand and motivate more purchases. If you're a B2B business, you might concentrate on LinkedIn.
Media marketing
Blast your message through media outlets.
Radio advertising
Radio advertising is good for branding given its repetition and ability to be memorable with catchy audio.
Television advertising
Good for local marketing (and often affordable for local distribution), television represents another way to reach the masses.
Newspaper and magazine advertising
Newspapers make for good local marketing, though newspaper advertising can get expensive. Magazine advertising costs even more, but can put you in front of a well-targeted audience that's likely to buy.
A good summer marketing campaign will feature elements from multiple marketing mediums; for example, you might send a direct-mail postcard with a coupon code designed to get customers to visit your online shop. Or, your website might feature a landing page with a lead-capture form customers can use to request a direct-mail booklet to learn more about your products and services.
Use this checklist as a springboard for inspiration to develop your own profitable summer marketing campaign. Then, maximize your ROI with premium printing at discount prices!