Anglers know it takes a strong presentation, a good sense of timing, and, of course, the right bait to catch trophy fish; similarly, small business owners know it takes a strong marketing strategy to attract great customers. That was the premise behind a recent marketing makeover for Bluff City Outdoors, an Alton, Illinois-based bait and tackle shop that specializes in the small town service and advice that catches the big fish.
Owned by Mark MacMurray and managed by his step-daughter, Whitney, Bluff City Outdoors is known for offering the type of specialized tackle the big-box stores ignore, but is needed to haul in catfish, bass, and crappie from waters near the confluence of the Mississippi and Missouri Rivers – an area that has produced two world-record catches.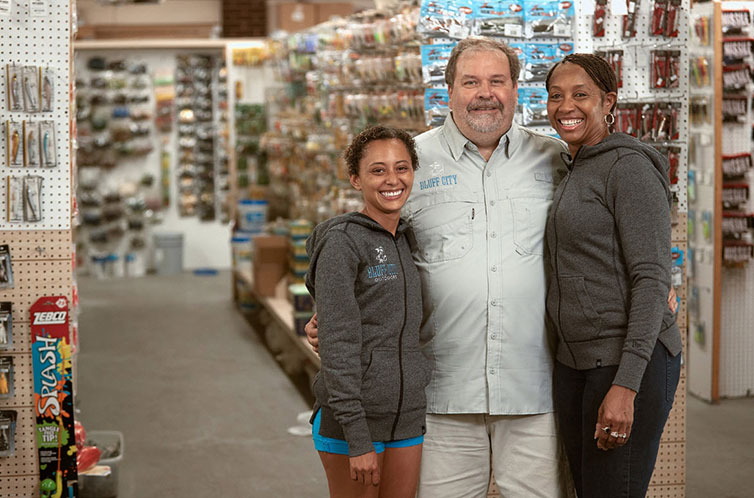 Mark MacMurray, his wife Felecia, and his step-daughter Whitney at Bluff City Outdoors
Bluff City Outdoors is community-minded, with a focus on providing an authentic experience "where the fishermen who taught you to fish go." Despite being the only bait and tackle shop in Alton, the business faces heavy competition from big-box stores in nearby St. Louis and online retailers.
Though vastly knowledgeable in fishing Alton's waters, Bluff City Outdoors has struggled to outpace its competitors due, in part, to a minimal advertising budget. As MacMurry puts it, he's great with people, but gives himself a "D-" in marketing.
That's where Deluxe's Small Business Revolution came in. Deluxe worked with Bluff City Outdoors to develop a marketing strategy designed to win back former local customers, draw out-of-town sportsmen to fish Alton for trophy catfish and maximize revenue. The marketing makeover included revamped branding, a new website, social media and email marketing, and print marketing.
As part of that initiative, PsPrint designed and printed new business cards for Bluff City Outdoors. The business cards prominently display the company's new logo: a dynamic catfish and a font featuring customized serif hooks for a bold, eye-catching brand that resonates with Bluff City Outdoors' customer base.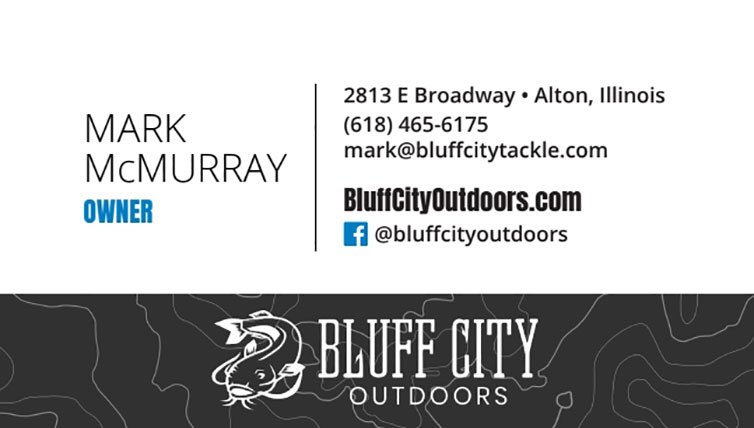 PsPrint also designed and printed posters to help Bluff City Outdoors market upcoming fishing tournaments. The posters will be placed where anglers gather throughout the area, which accounts for 80 percent of Bluff City's customers. A clean, easy-to-read design helps create awareness about events and illustrates the shop's expertise in fishing the local waters.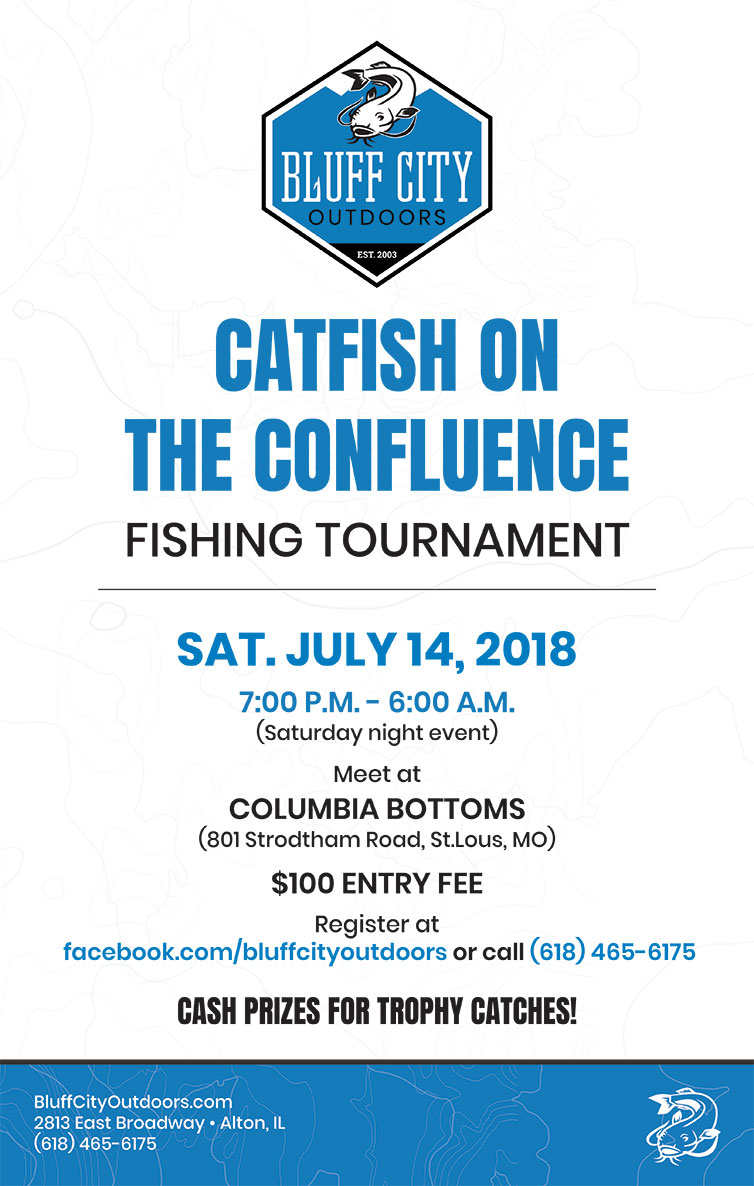 Finally, PsPrint designed and printed postcards to help Bluff City Outdoors promote its events. The postcards are easy to drop in retail bags, giving customers a takeaway that reminds them about upcoming fishing tournaments and reinforces the idea that a great day of fishing starts with a visit to Bluff City Outdoors.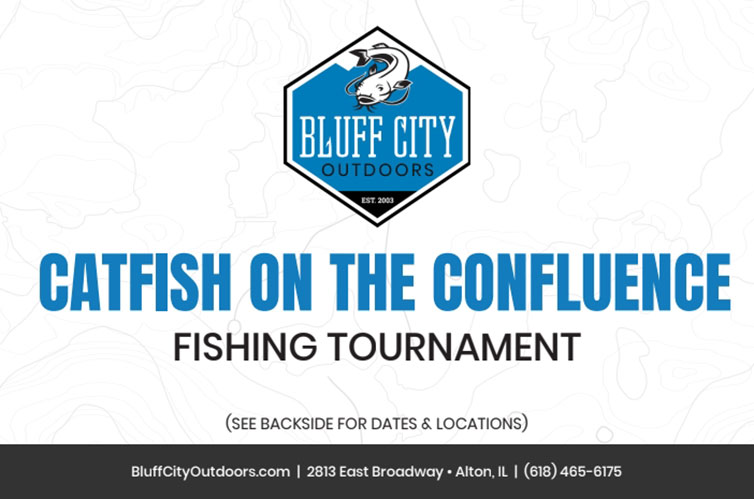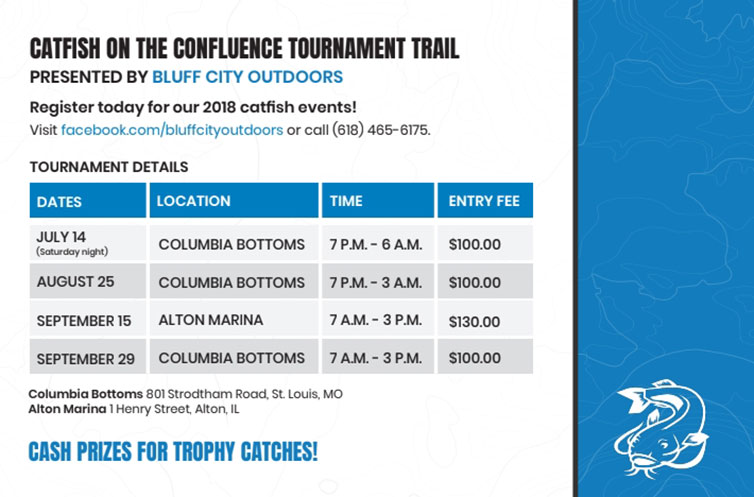 With stronger branding, a more professional appearance, and a strategic approach to event promotion, the new print marketing tools have proven powerful ways to market Bluff City Outdoors. Together with other marketing initiatives, the shop can expect increased business, a better return on investment, and improved profitability as it looks toward the future.
Catch Bluff City Outdoors' complete marketing makeover on Season 3 of Small Business Revolution – Main Street, a movement that shines the spotlight on the small businesses that unite our communities and drive our economy, airing as an eight-episode series on the Deluxe website and Hulu.