Family is at the core of Lovett's Soul Food, the Alton, Illinois-based restaurant that invites diners to come for the food and stay for the conversation. With unique dishes such as pig snoots and deep-fried Kool-Aid, Lovett's Soul Food has shared its family recipes with the community since 2014, growing from a walk-up window to a full-fledged restaurant that serves fresh southern soul food daily. Focused on growth, the Lovett family recently underwent a marketing makeover designed to improve branding, attract new dine-in customers, and increase overall sales.
Lovett's Soul Food was borne from humble beginnings when Merry Lovett and her 18 siblings began selling food from their father's garage to raise funds for their family reunions. Their food was so popular – especially pig snoots – that the family decided to take to the plunge and start their own restaurant.
Now, Lovett's Soul Food is an Alton staple – a first-timer-friendly soul food restaurant where every dish is made with love and diners feast on family favorites such as Aunt Phyllis' pig snoots, Merry's collard greens, Aunt Francine's mac & cheese, and homemade sweet potato pie.
Despite the restaurant's early success, the family-owned business faces challenges. Sales won't yet support Merry's dream of working full-time at the restaurant; and her son, chef and manager Brad Chavours, sometimes sacrifices his salary to keep the doors open. The Lovett family felt they could grow with a strong marketing campaign, but Merry gives herself a "D" in marketing.
That's where Deluxe's Small Business Revolution came in. Deluxe worked with the Lovett family to develop a marketing strategy that included new branding, a website, social media campaign and print marketing.
As part of that initiative, PsPrint designed and printed new business cards and menus for Lovett's Soul Food. The redesigns help showcase the quality of Lovett's food to increase takeout and catering orders.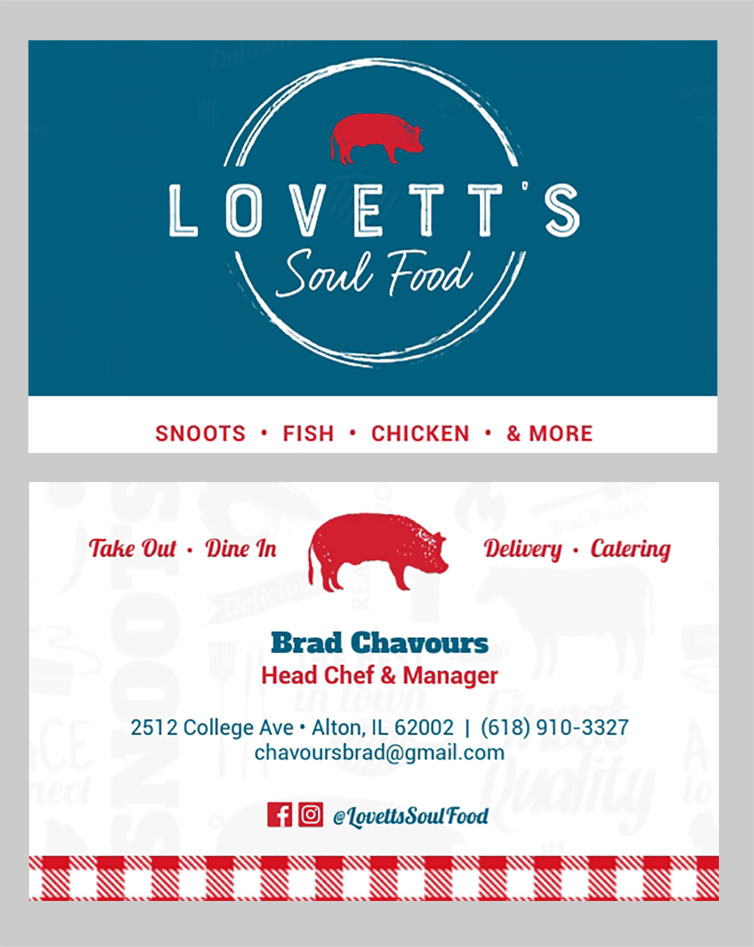 Two menus were printed – a main menu and a takeout menu – with a more professional, modern look that's easy to navigate and shares Lovett's story. The old menu was a black and white photocopy with out-of-date options.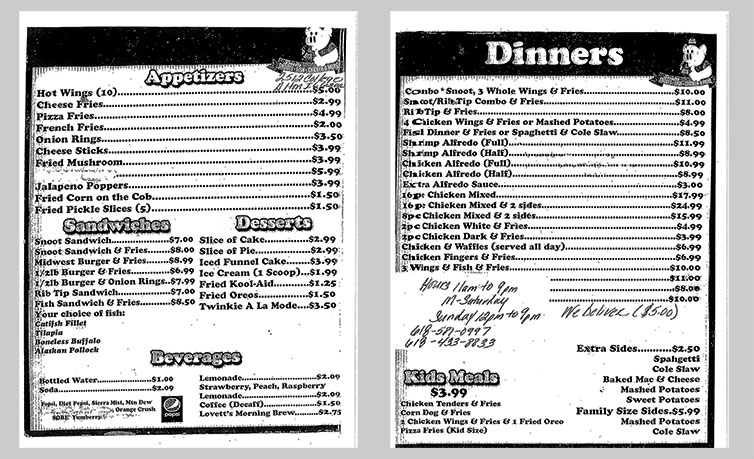 The new menu is not only more attractive and easier to read, but it also lends itself to the southern family atmosphere Lovett's promotes.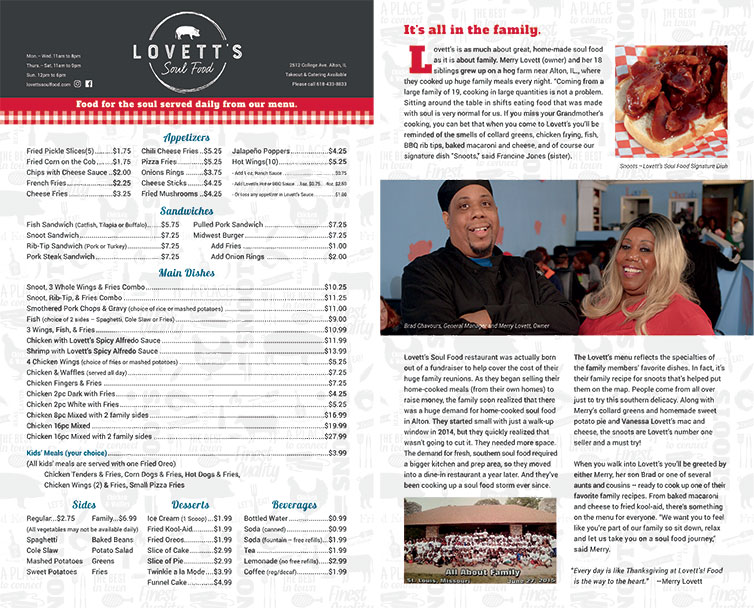 The new takeout menu was designed to encourage repeat business and market the restaurant's catering service.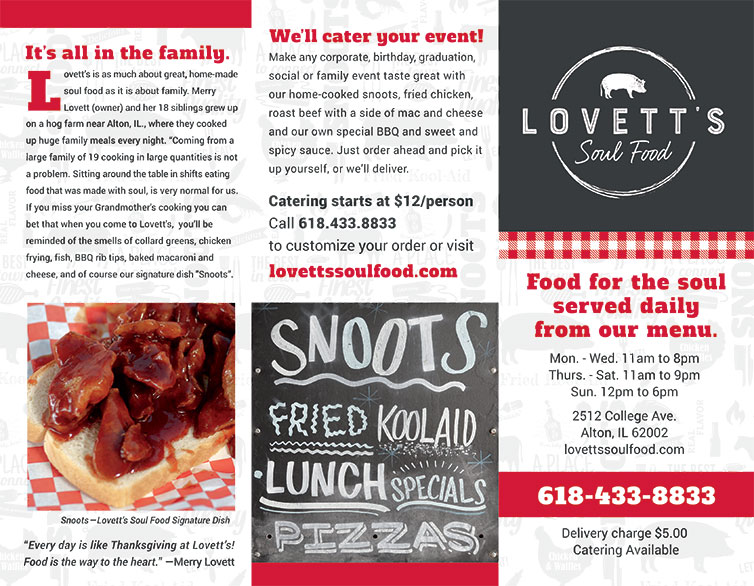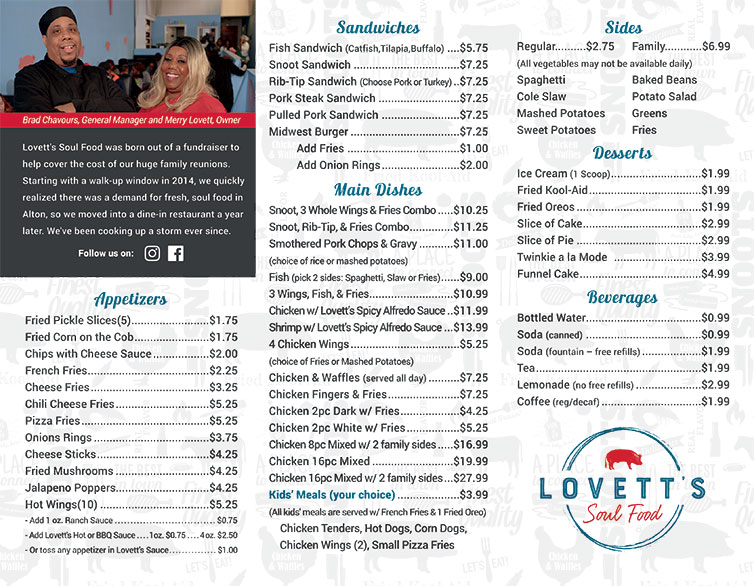 With stronger branding, inviting visuals, and a more professional – yet family-friendly – appearance, the new business cards, and menus have proven powerful ways to market Lovett's Soul Food. Together with other marketing initiatives, the restaurant can expect an improved return on investment, increased business, and greater profitability as it looks toward the future.
Catch the complete marketing makeover on Season 3 of Small Business Revolution – Main Street, a movement that shines the spotlight on the small businesses that unite our communities and drive our economy, airing as an eight-episode series on the Deluxe website and Hulu.