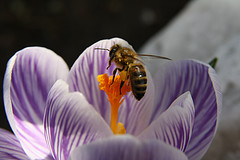 Spring is here, the grass is green and the customers are ready to get ... out ... and spend! It's time for some clever spring marketing ideas to entice all those customers to hop your way this year.
1. Sponsor a community spring cleaning: Great PR is invaluable – it gets your name in the media and validation from a trusted third party.
Instead of drawing up flyers that play on the spring cleaning theme (like everyone else), you can capitalize on it by sponsoring a community cleaning. Enlist volunteers to go out one day and clean up trash along a roadway or public park or to assist in some other community project that will make your neighborhood look better than it already does. Make sure to call the local media in as partners!

2. Plant a tree for every sale: Another great way to get free publicity is to plant a tree, shrub or flower for every sale made this spring. See if you can partner with your community to section off a portion of a community park or water edge where you can plant your trees, complete with commemorative plaques bearing the names of each customer who made the planting possible. Send postcards inviting customers to enjoy a great discount with a tree planted in their honor to boot.
3. Hoof it for green marketing: Take to the sidewalk instead of the streets to personally deliver flyers to potential customers. Introduce yourself face-to-face and let them know the effort is part of your green marketing agenda. Customers trust companies that care about their local communities, and they feel appreciated and valued when you take the time to meet them face-to-face.
4. Partner with others: A highly effective spring marketing idea is to seek out non-competing businesses that share your customer base to bundle packages and jointly market via each others' stores and websites and through a shared-purchase, direct-mail marketing campaign. Many customers want to spruce up in the spring, so a hair salon could partner with a dress shop and a day spa to offer an all-in-one spring body package; or, a mechanic could partner with a car wash and a detailer for a complete car fresh and tune deal.
Image use Creative Commons license via Flickr.