Summer events such as festivals, conferences and trade shows are a lot of fun, but event organizers and marketers can find themselves stressed trying to coordinate attractions and vendors and plan for contingencies – plus attract the people who will make the events successful. If you're charged with marketing a summer event, the following must-have marketing tools will help you get the word out and make your event more attractive to attendees.
Brochures are the standard marketing tools for events. They're what people want and expect. Brochures typically detail the reason for the event and provide a schedule of attractions. If your event is held in a large venue, an event map can be printed on your brochure. Other information, such as featured sponsors and contest sign-up information, can also be included in your brochure.  Be sure to print plenty of brochures for mass distribution before and during your summer event.
Dedicated web page
Not every group has the budget to fund a custom website, but you should at least publish a dedicated web page on a free platform. Online searchers need a place to find you, so see if your local Chamber of Commerce or CVB will host a web page for you. If you're holding a nonprofit event, you'll also find many web designers are eager to help you out for a minimal investment.
Blanket your city with posters and flyers to help get the word out about your event. Like brochures, posters and flyers can list a schedule of events (or simply direct guests to your web page to find it).  The most important job of your posters and flyers is to create desire. Use powerful images and copy to make people not only want to attend your event, but to be afraid to miss it.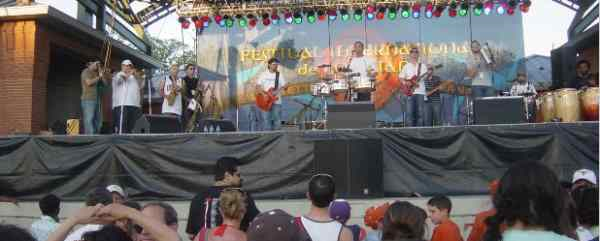 Advertisements
Local entertainment directories, newspapers, magazines and websites all provide advertising opportunities for events. Many have community calendars you can get your event listed in for free. Again, if you're holding a nonprofit event, you can likely negotiate low ad rates. Television and radio are also good advertising opportunities – especially if you can get them to throw in some media coverage for your event.
Vinyl banners are incredibly cheap ways to market summer events to the masses. Place them at busy intersections in your city and surrounding areas to make sure all motorists see them. Keep your message simple and memorable to motivate follow-ups and greater event attendance.

Postcards are the cheapest direct-mail marketing option you have (though brochures can be mailed for cheap, too). If you don't have the budget for postage, consider recruiting volunteers to distribute door hangers.
Social media
Facebook, Twitter and other social media platforms are perfect for summer event promotion. Be sure to update your fans and followers regularly on the status of your summer event, and feature different aspects of your event on different days and times to attract targeted, niche audiences.
If your summer event caters to tourists, make sure you have rack cards at visitor centers, restaurants, hotels and other locations in a large radius around your event location. What other summer event marketing materials do you use?