You know you need to invest in marketing to grow your small business, but you might not know which marketing tools give you the most bang for your budget-minded buck. The following examines initial investments, potential reach, and overall efficiency to list the top 10 best print marketing tools for small businesses.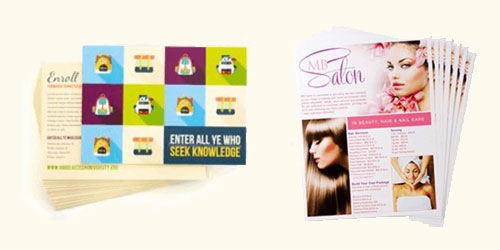 The staple marketing and networking tool, business cards are cheap to print yet can promote a powerful presentation to prospects. You can even create a custom business card design for free with PsPrint's online business card maker.
Another small business standby, brochures are versatile marketing tools that can be used in a variety of situations: as sales visuals, point-of-sale takeaways, mailers, and more. Brochures are inexpensive, yet offer plenty of real estate for featuring your products and services, benefits, brand, testimonials and case studies, your company story, and anything else that will help you seal the deal.
Flyers can be posted in prominent public or targeted private areas, sent via direct-mail, handed out during face-to-face meetings, and given to passers-by on the street. Depending on the nature of your business, some or all of these flyer marketing strategies can help you grow your company.
The cheapest direct-mail marketing tool, postcards can be sent to a well-targeted mailing list that easy helps you generate new leads and sales. Use PsPrint's free online postcard creator to make your own!
Postage for direct-mail marketing not in the budget? Not afraid to do a bit of legwork? Door hangers are perfect for promoting local specials on your products and services.
Put your brand front-and-center every time your customers head to the fridge for a glass of milk with magnets. Cheap to print and useful, magnets have a long shelf life and can promote your brand in customers' homes for years.
Banners make it easy to reach many potential customers for minimal investment. Print banners to post along busy roadways and intersections, at targeted events, outside shopping mall entrances, and other areas you can easily achieve mass exposure.
If you're a B2B business, sales sheets are affordable sales tools that can help you promote the features and benefits of your products and services. Print full-color sales sheets that showcase your products and demonstrate how they'll help your customers grow their businesses.
Small restaurants, boutique hotels, museums, and tourist attractions can all take advantage of rack card marketing to promote their establishments. Rack cards are sought after by potential customers in well-targeted locations – design and print the most compelling rack card, and you'll get the business.
Stickers are ultra-cheap marketing tools you can place anywhere: doors, windows, mirrors, walls, vehicles, and more. With just a small investment, you can "paint the town" with stickers that promote your brand. Stickers are also great giveaways with orders and product branding tools.
Ready to take your business to the next level? Print powerful marketing tools at discount prices.