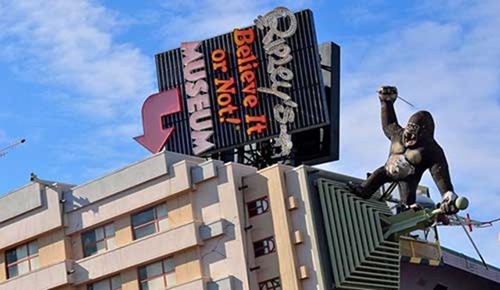 If you operate a tourist attraction you know how critical summer sales are to your success. That's why it's important to plan your summer marketing early; doing so allows you to take advantage of ongoing and last-minute marketing opportunities to generate growth. Whether you run a museum, mini golf, amusement park, water park, hotel, restaurant, or other tourist attraction, now is the time to plan your summer marketing strategy. The following lists five things you need to maximize your summer marketing success:
1.  Rack cards and brochures
Many tourists look for information on local attractions at visitor centers, hotel lobbies, and restaurants; all of which typically have card and brochure racks designed specifically for promoting said attractions. Print rack cards and brochures to fill out local and regional literature racks and attract customers to your attraction.
2.  Postcards
Direct-mail marketing can be a great way to get more visitors to your tourist attraction, and postcards are the most cost-effective direct-mail marketing tools. It's a good idea to couple a special offer with your postcard marketing campaign, and only send postcards to a well-targeted list comprised of those most likely to take advantage of your offer. A zoo, for example, might send postcard invitations to families with young children living in a 100-mile radius; each postcard might offer discount admission prices if used by a specific date.
3.  Ad placement
Ad placement is big when it comes to tourism marketing. Seek companies that publish local, regional, and state tourism guides to find out ad placement rates. Find online blogs and other websites related to tourism in your area and inquire about placing ads on their web pages, in their apps, and in their emails. Pay-per-click, television, radio ads, and billboards can also help you market your tourist attraction this summer.
4.  Social media
Social media can be a great way to market your tourist attraction, especially if your attraction makes for great visuals. Such attractions include museums, waterparks, amusement parks, and zoos. Images and videos get a lot of play on Facebook, Twitter, Instagram, Pinterest, YouTube, Google+ and other social media websites. Contests, interesting facts, and special fan-only discounts are great ways to keep your audience engaged, interested, and coming back year after year.
5. Outdoor marketing
In addition to billboards, strategically-placed posters, flyers, and banners can generate interest in your tourist attraction. See if you can form partnerships with other tourist attractions to place each others' flyers or posters on-location. Place large format vinyl or canvas banners near high-traffic intersections and other tourist hot spots to maximize your reach for minimal investment. Check out our Print marketing tools for your tourist attraction at discounts up to 60 percent off!