Are you ready to rock St. Patrick's Day with a marketing campaign that drives customers to your door like snakes fleeing Ireland? Here, we present 20 killer St. Patrick's Day marketing ideas you can use to boost business mid-March – because when it comes to St. Patrick's Day profits, it's all about the green.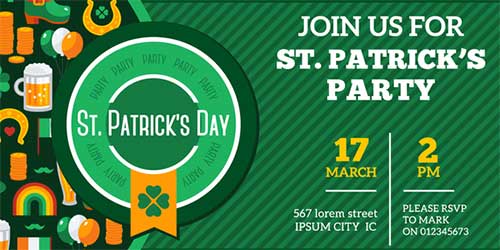 1. St. Patrick's Day gift guide
St. Patrick's Day might not be as well-known for gifts as Valentine's Day or Christmas, but the holiday has become a $4.4 billion industry – and not all of that is spent on green beer. From flowers and candy to novelty T-shirts and hats, retailers are cashing in on St. Patrick's Day merchandise. Get your share of the pot by printing a St. Patrick's Day gift guide packed with fun ideas for celebrators mixed with product recommendations (for products you sell, of course!).
2. Double your rewards
If you have a loyalty/rewards card, you can double punches for any purchases made in March prior to St. Patrick's Day. It's a great way to bring loyal customers back – they're likely to buy again anyway, so they'll take advantage of your double rewards promotion.
3. Paint the town green
Hosting a big St. Patrick's Day party or other event? Make sure everyone in your town knows about it with banners, posters, and flyers strategically placed anywhere and everywhere your audience will see them. These are low-investment marketing tools that can have a big impact on your return on investment.
4. Make a path to the pot of gold
Print large stickers featuring St. Patrick's Day icons or leprechaun "footprints," and use them to lead customers to your best St. Patty's Day sales, party rack, gifts, or other profitable products. Don't limit your sticker marketing to indoors – take it outside and bring in passers-by to earn new customers.
5. Social media-to-booklet marketing
Booklets are powerful marketing tools because they offer customers excellent value and simultaneously promote your products and services. The only problem? Booklets can be relatively expensive to produce, so the best way to maximize your return on investment is to send them only to qualified prospects. Social media can be a cheap and effective way to do it.
For example, you can boost a Facebook post that offers your booklet for free when fans fill out your online form. This makes it easy to send your booklets only to those who have already taken action and requested your information. St. Patrick's Day booklet ideas include "how-to" party guides and recipe books.
6. Partner with others
Identify non-competing businesses that share your target market and see if there is a way you can combine forces to increase your reach and attract more customers this St. Patrick's Day. A microbrewery might partner with a bar, for example, to host a big St. Patrick's Day bash. They'd share in the marketing costs, and the microbrewery would take part in the party to push its brand and products.
7. Postcard-to-website marketing
Direct-mail postcard marketing is of the best ways to drive traffic to your online St. Patrick's Day sales, especially when you include a powerful offer and a trackable, time-limited coupon code. Postcards are cost-effective and make it easy to reach your audience if you have a well-targeted mailing list. Command attention with ultra postcards, which are triple-thick and feature a band of (green) edge color add St. Patrick's Day flavor to your message.
8. St. Patrick's Day "lucky" hang tags
Draw attention to sale items and relevant products by printing St. Patrick's Day hang tags for your retail store or boutique gift shop. Large, green, four-leaf clover hang tags get your merchandise noticed and motivate impulse purchases that drive profits.
9. Hold a St. Patrick's Day contest
Offer a special discount to anyone who dresses up in St. Patrick's Day attire; or, hold a contest for the best-dressed. You can feature pictures of contestants on your social media pages and in your newsletters. Encourage sharing to boost awareness for your brand name and St. Patrick's Day campaign.
10. Hold a "save the green" sale
Print St. Patrick's Day stickers and hang tags to place on products throughout your store, then send a postcard that invites customers to "save some green" during your St. Patrick's Day sale. Mark down any green items to offer savings, and take advantage of the opportunity to bundle slower-moving products with faster-selling merchandise to boost profits and clear your shelves.
11. Post a recipe-a-day
Post a new recipe on social media each day in March leading up to St. Patrick's Day. Depending on your industry, you can feature an Irish or St. Patrick's Day entrée, dessert, or drink recipe every day. This is a great way to engage people online and increase awareness for your brand. It's also a great way to get people interested in your St. Patrick's Day guides and booklets.
12. St. Patrick's Day trivia
If you operate a restaurant or bar, you can hold a special St. Patrick's Day trivia night. Team trivia is a popular attraction at many eateries and pubs, and the St. Patrick's Day twist will give you a unique advantage over competing venues.
13. Print a green things catalog
Specialize in St. Patrick's Day retail merchandise? Print a direct-mail catalog featuring all of your green things and send it to a well-targeted mailing list in advance of St. Patrick's Day. Promote your St. Patty's-themed shirts, hats, mugs, shot glasses, jewelry, and novelties. Use catalogs to earn sales before your competitors even enter the market.
14. Send "lucky" greeting cards
Foster relationships with your best customers by printing custom greeting cards for St. Patrick's Day and sending them with a personalized note that tells customers how lucky you feel to be able to serve them. You don't even have to include a promotional offer; often, the sentiment alone is a powerful way to earn long-term customer loyalty.
15. Print useful magnets
Print magnets featuring interesting and useful information about St. Patrick's Day: a few drink recipes, for example, or custom Irish dishes. Other ideas include conversation starters such as the origins of St. Patrick's Day traditions. Make sure your design is interesting and also features your logo and contact information. A good magnet will extend your marketing will beyond St. Patrick's Day, as customers will see it every time they go to the fridge.
16. Post a huge wall graphic
Find a huge wall that's seen by thousands of people each week – it could be the side of a building near a busy intersection, an interior wall at the local mall, or wall inside a potential partner's establishment. Print a large wall graphic that covers the wall and promotes your St. Patrick's Day sales and events. Size matters, and huge wall graphics never fail to command attention.
17. Deliver door hangers – in character
Don the leprechaun outfit and take door hangers door-to-door in targeted neighborhoods. Not only are door hangers impossible to ignore, the sight of a leprechaun going door-to-door will get neighbors talking – thereby strengthening your brand power via word-of-mouth. This strategy might not work for every brand, but if green shoe fits, wear it!
18. Print coasters and table tents
Coasters and table tents have long been used to promote dinner and drink specials as well as events in restaurants, bars, and night clubs. However, you don't have to operate one of those establishments to take advantage of coaster and table tent marketing. Partner with one that shares your audience, then print St. Patrick's Day-themed coasters and table tents that promote your company on one side, theirs on the other.
19. Car door magnets
Promoting a St. Patrick's Day event or sale to a local audience? Print car door magnets to market on-the-go. Recruit friends, family, and employees to do the same and you'll increase your reach. Unlike vehicle wraps, car door magnets are cheap, easy, fast, and temporary ways to market.
20. Print window clings
Perfect for retail shops in downtown business districts and strip malls, window clings motivate impulse purchases by attracting passers-by and convincing them to check out your store. Showcase your St. Patrick's Day products and/or specials with large window clings positioned to catch the most foot traffic.
Ready to enact your St. Patrick's Day marketing plan? Maximize your return on investment with premium discount printing.