Looking for a great way to get your brand in front of B2B prospects every day of the year? Desk calendars are perfect B2B marketing tools. The following details why desk calendars are excellent for year-round B2B branding.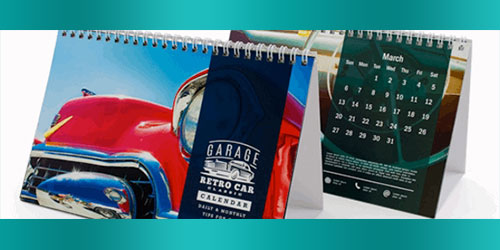 1. Desk calendars are useful
Unlike many other marketing tools, desk calendars have inherent value. They're useful, and people use them every day for planning and reference. Since they offer real value, your B2B customers are likely to use them – and be exposed to your brand all the while.
2. Desk calendars are always working for you
Because they're placed on desks, your prospects will be exposed to your message every minute of every hours they're working. Even when your B2B customers aren't consulting them directly, your brand is peripherally omnipresent. Over time, that works to ensure your company is top-of-mind when buyers need what you sell.
3. Desk calendars connect your brand to your customers
More than a logo and some dates, your desk calendars can help create sense of solidarity between you and your customers. When you choose an attractive desk calendar theme that is relevant to both your brand and your audience, you bridge a connection that helps them feel comfortable doing business with you. Desk calendars help demonstrate that you're one of your customers – you understand them, and you're here to help.
4. Desk calendars make you easy to contact
Include your phone number, email address, physical address, Facebook page, and website URL on your calendars to make it easy for customers to contact you with questions and purchase orders. When they need a quote or are ready to buy, they won't have to sift through their contacts (which likely include your competitors) – all they have to do is glance at their desk calendars.
5. Desk calendars offer ultra-cheap cost-per-views
Your upfront desk calendar investment might be greater than some other marketing tools, but when you consider how much you're actually paying to put your message in front of potential B2B buyers every minute they're at work, they're actually among the cheapest marketing tools you can buy. A single desk calendar can easily get 1,000 views or more per year. You can print desk calendars for around $3 each, which means you're paying less than one-half cent per-view.
Ready to lure B2B customers with desk calendar printing? Start today.