You know banners are excellent tools for putting your brand and promotions in front of the masses, but you might be unsure of which type of material is best for your banners. Choosing the right type of banner means considering how it will be used, where it will be used, how long it will be used, and, of course, your budget. The following explains the differences between each type of banner – canvas, vinyl, and wall graphic – to help you decide which is right for your application.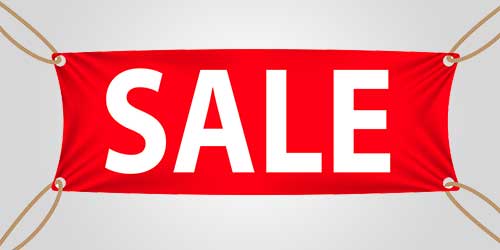 Canvas banners are printed on high-quality 9-oz. white woven polyester fabric, which makes them both durable and great-looking. Canvas banners are best for indoor applications (long and short-term), as well as short-term outdoor applications where weather is fair. Though canvas banners are durable, they do not withstand harsh weather conditions.
A 4-foot-by-8-foot canvas banner (with hem and grommets) costs around $260.
There are three different types of vinyl banners:
13 oz. white matte: Flexible banner material with a matte, front-lit finish that's smooth to the touch and puncture-resistant. These banners can be used in any application, indoor or out, long-term or short-term, as they boast excellent longevity. However, they could be torn in high-wind conditions. A 4-foot-by-8-foot banner (with hem and grommets) costs around $160.
9 oz. white mesh vinyl: All the benefits of vinyl without the risk of tearing: miniature mesh holes allow wind to flow freely instead of catching the banners like sails. These banners are best-suited for outdoor applications where wind is a factor and they will be viewed from afar, as they can be seen-through at close range. A 4-foot-by-8-foot banner (with hem and grommets) costs around $195.
15 oz. biodegradable vinyl: Tear, fade, and fungus-resistant, these banners are every bit as strong as the standard 13 oz. banners with a major benefit: they're eco-friendly, since the material biodegrades in three to five years. Best-suited for indoor and outdoor applications not to exceed three years. A 4-foot-by-8-foot banner (with hem and grommets) costs around $180.
Adhesive-backed vinyl makes it easy to place your banner on just about any flat surface: walls, ceilings, and floors. The material offers unique air-egress technology for smooth, professional installation. Best for long-term indoor use or short-term outdoor use, vinyl wall graphics can be printed in either high-gloss or matte finishes. A 4-foot-by-8-foot wall graphic costs around $155.
Now that we've clarified the differences between banner materials and their associated costs, put this information to good use to boost sales for your business. Be sure to maximize your ROI with high-quality discount banner printing from PsPrint!