Fall is just around the corner and it's time to plan your fall and holiday marketing campaigns, but where should you invest your budget to get the most bang for your buck? Many companies will spend their entire budgets online, but print is likely the better option for your business. The following details why print marketing trumps online marketing this fall.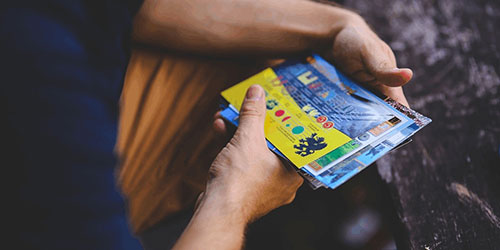 Print is focused marketing
You might already be familiar with the advanced target afforded by print marketing: demographic-based mailing lists, relevant event sponsorships, and location-based outdoor and signage marketing all put your message in front of a well-targeted audience. But have you considered how focused print marketing is when compared to online marketing?
Most people keep multiple browser tabs open at once, which dilutes focus for any single site. However, when people view a direct-mail postcard or catalog, their full attention is focused on that piece. They're looking at your fall clothing catalog, not browsing an online store and checking their email and Facebook pages at the same time.
Not only that, but customers aren't being distracted by the content they came for in the first place. When they view your print marketing materials, their attention is deliberate. Online, your ads could simply skipped over in favor of page content – if they're not eliminated by user-side ad blockers in the first place (which are used by 45 million people in the United States and 200 million people worldwide).
Moreover, your competitors aren't creeping in on your pitch. Any given online site might serve competing ads or content sponsored (or featuring) your competition. Your print marketing materials feature only your products and services.
Print marketing is more personalized
Sure, online marketing can pull your name from a database, but only print offers opportunities to make your marketing efforts truly personalized. Consider the impact of an email – even if personalized – versus a handwritten note in a greeting card. It's why 80 percent of U.S. household read or browse advertising mail, and why direct-mail response rates are 37 percent higher than email response rates (Print Is Big).
The tactile quality of print marketing also contributes to its personalized feel. Studies have shown that customers are more likely to trust your business (and therefore buy from you) when your marketing is presented on thick, soft paper stocks (such as ultra postcards).
That trust factor is significant for non-profit organizations, too: direct-mail increases online donations by 40 percent.
Print marketing drives online sales
There's no doubt print is good for local businesses, but what about companies with nationwide or global reach? Print marketing drives online sales no matter where you're based, and it works together with online marketing initiatives so you can create more powerful and cost-effective campaigns.
One of the most popular marketing strategies is postcard-to-website. Since postcards are some of the cheapest marketing tools available, they even the playing field for smaller businesses that want to put their fall promotions in front of a well-targeted, focused audience. Such companies can print and mail postcards that drive traffic to their online catalogs, minimizing their print investment without losing exposure for their products.
Finally, it's important to consider the outstanding return on investment afforded by print marketing: in the U.S., advertisers spend $167 on direct-mail for every $2,095 in sales – yielding an ROI of 1,255 percent!
Ready to start planning your fall marketing campaign? Get more from your print marketing with PsPrint.
Image via Pixabay