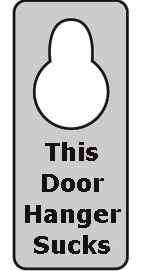 If you've tried your hand at door hanger marketing with poor results, the problem isn't the marketing medium – it's your specific door hanger. While door hangers are among the most cost-effective and potentially high-return ways to market your products and services, they, like other marketing materials, require a strategic approach in order to maximize your return on investment. The following details reasons why your door hanger sucks, and how you can fix it.
1.  Too much information
You can fit a lot of information on your door hangers – but that doesn't mean you should. Simple, bold messages that appeal to your target audience are best. Instead of filling up your door hangers with a lot of information, make your headlines, text and graphic elements larger. Doing so will help your door hangers command attention, create desire and motivate response.
2.  Bland design
When you print door hangers, you should ensure your design is compelling. It's important for your door hangers to be able to attract attention. Door hangers have the benefit of being placed where they are impossible to ignore, but that doesn't mean potential customers won't ignore your message. Craft a door hanger design that gets customers to actually read your door hangers, and you'll vastly increase your return.
3.  Lack of offer and call to action
One small nonprofit I'm aware of printed door hangers that did little more than give the name of the nonprofit's current campaign. As you might imagine, the door hangers fared poorly. The problem wasn't the cause or the audience; it's that the door hangers didn't tell the audience what to do next. Whether you're printing door hangers for a nonprofit organization or a business, you need to include an offer (time-limited, of course) and a clear call to action (what to do next) to maximize your response rate.
4.  Lack of strategic placement
Door hanger distribution is largely limited to the neighborhoods you can canvass, which means you can't benefit from the full demographic targeting direct-mail materials such as postcards are afforded by mailing lists. However, you can still benefit from mailing lists, or at least a good idea of where your target audience lives. Pick your distribution areas carefully and match demographics to geographic hotspots to increase relevancy and earn a greater response rate.
5.  No tracking mechanism
Your door hangers should include a tracking mechanism so you can measure your response rate and ultimate return on investment. A coupon or coupon code, a special URL or phone number, or even a simple "pass phrase" can serve as tracking mechanisms. It's essential to understand the success (or lack thereof) of your door hanger marketing campaign so you can make revisions for future success. Tracking all of your marketing efforts is part of a long-term plan for marketing success.