Similar to direct-mail marketing, door hanger marketing yields an average response rate between 1 and 3 percent – and some businesses get even better results, while others get none. Door hanger marketing is attractive because it's a cost-effective way to reach targeted neighborhoods with a tangible piece that's placed in a prominent location. Door hangers must be handled by prospects, and they cannot be ignored. The only question is: will door hanger marketing work for your business?
Businesses that successfully market with door hangers
Many different types of businesses use door hangers to find new customers; in fact, door hanger marketing is perfect for just about any local business, including:
Real estate agents
Restaurants
Roofers
Remodelers/construction companies
Landscapers
Gyms
Spas
Hair stylists
Mechanics
Auto sales
Pet groomers
Retail shops
Fashion and clothing stores
And more
Door hangers work for regional and national companies, too – they just need strategic distribution in targeted communities.
The bottom line? Door hanger marketing can absolutely work for your business – provided you adhere to door hanger best practices so you can earn a respectable (and profitable) return on investment.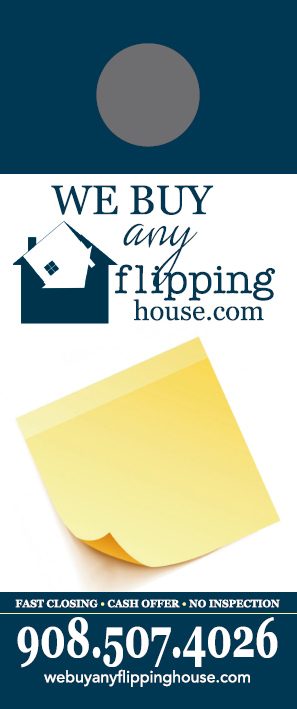 Door Hanger for WeBuyAnyFlippingHouse.com
Door hanger marketing success is no accident
Successful door hanger marketing campaigns often share the follow characteristics.
A promise to make life better
Think about your prospects' pain points and desires, then give them what they need. Solve their problems, make their lives easier, and satisfy their desires; and make sure your door hangers clearly state how you can help them.
A strong offer
A strong offer is paramount to door hanger marketing success. You need to give your prospects an offer they can't refuse, such as a discount or buy-one-get-one deal. Your offer should have a deadline to encourage the greatest number of responses in the shortest period.
Attention-getting headline and design
Your headline and design should work together to immediately command attention and encourage prospects to read the rest of your door hanger. Unique, interesting images, bright and attractive colors, and large fonts can help your door hangers get noticed. A headline that communicates the primary benefit and your offer gets your door hangers read.
Powerful bullet points
Strong bullet points that elaborate on your offer and what's in it for your customers help create desire and motivate prospects to take action.
Strong and clear call to action
Repeat your primary benefit and offer, then make it abundantly clear what your customers should do next: visit your store, call a phone number, visit your website, etc. Remind them what they'll be getting for taking this action so you don't lose them at a critical moment of consideration.
Premium printing
High-quality door hanger printing creates the perception that your business delivers high-quality products and services. When you print door hangers on premium paper stocks with vibrant inks, they'll stand out, feel good in prospects' hands, and establish trust in your ability to deliver as-promised.
Strategic distribution
Carefully select neighborhoods to target based on community demographics and areas in which you already have customers. You can take to the streets to blanket neighborhoods with your door hangers (do it yourself, have employees do it, hire a third-party company to do it, or recruit volunteers and reward them with a party). Another door hanger distribution strategy that's perfect for service-based companies: every time you complete a job, place door hangers at the nearest 10 to 20 neighboring homes (double your exposure by placing a yard sign on your customers' lawn).

Door hanger designed by Natalie Branche for N&N Landscaping in New Orleans
Will door hanger marketing work for your business?
Door hanger marketing certainly can work for your business; in fact, it's one of the most successful marketing strategies for many companies. No one can guarantee a specific door hanger marketing campaign will work, but if you follow door hanger marketing best practices and truly commit to door hanger marketing (through continual distribution and testing), you'll discover what works so you can consistently yield strong return on investment with door hanger marketing.
Maximize your profits with premium door hanger printing at discount prices!