PsPrint makes it easy and affordable to print custom gift labels for the holidays, but what design theme should you choose to make your gift labels meaningful and attention-getting? A great gift label design can be a conversation piece, after all, and make your gifts seem more significant. For your inspiration, the following lists 10 cool custom holiday gift label themes you can use this year.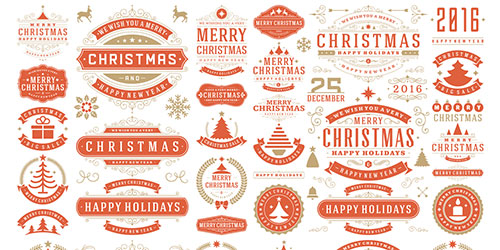 1. Funny family photos
Have a photo of your kids making funny faces? How about Uncle Bob sleeping in his chair last Christmas? You can turn these into cool custom holiday gift tags the whole family will love.
2. Giver/receiver photos
Replace the traditional "to" and "from" lines with photos of the gift-giver and gift-recipients. Sheet stickers make this easy and affordable, since you can craft a custom design for each individual label.
3. Comics-inspired gift labels
If you have a knack for illustration, you can create a comic-themed design for your holiday gift labels. Feature family members in superhero garb!
4. Traditional holiday icons
Want to maintain a traditional look? You can illustrate your own versions of Santa, snowflakes, Christmas trees, snowflakes, and more for your holiday gift labels.
5. Kids' illustrations
Put your kids to task and ask them to create your gift label designs this year. They can use crayons and markers to create their designs on paper, then you scan them in and apply the artwork to our free gift label templates.
6. Minimalist gift labels
Cut back on Christmas clutter with a minimalist gift label design. A solitary tree or gift icon, for example, or a silhouette of Rudolph might do the trick.
7. Naughty or nice checkboxes
Have some fun with your gift-giving by incorporating "naughty or nice" checkboxes into your gift label designs. Check the appropriate box for each recipient accordingly.
8. Company logo and branding
If you're giving gifts to customers or clients, add your logo and brand colors to your custom holiday gift label design.
9. Create your own mock gift shop or kitchen
Pretend your gifts come from your own special shop or kitchen, then design custom holiday gift labels featuring your "logo" and other artwork. Think "Bob's BBQ Bistro," "Aunt Mae's Diner," or "Molly's Gift Shoppe."
10. Specific thank-you notes
Include brief thank-you notes for specific good deeds, customized to each recipient, on your gift labels. Again, you can customize each individual label on your sheet, so you can add a personal note for each person on your list.
Ready to make your gift-giving extra-special this holiday season? Design and print your own custom holiday gift labels today.