Holiday printing is a powerful way to boost business during the year's busiest shopping season. Whether you're marketing for Christmas, Hanukkah, Kwanza, or even Festivus, print marketing tools brand your company, influence shopper decisions, and motivate purchases during the holiday season. Earn more sales with the following ten holiday print marketing ideas that boost business.
1. Holiday card printing
Print custom holiday cards featuring your logo, brand colors, and a personalized message just for your customers. Generic, store-bought holiday cards don't cut it when you can deliver meaningful sentiments with custom holiday card printing via free holiday card templates and PsPrint's free online holiday card maker.
Print folded holiday cards delivered in matching envelopes for a traditional approach; or, add a contemporary vibe to your marketing with postcard-style flat holiday card printing. Either way, your holiday greeting cards will find a receptive audience – annually, 1.6 billion greeting cards are sent for Christmas alone.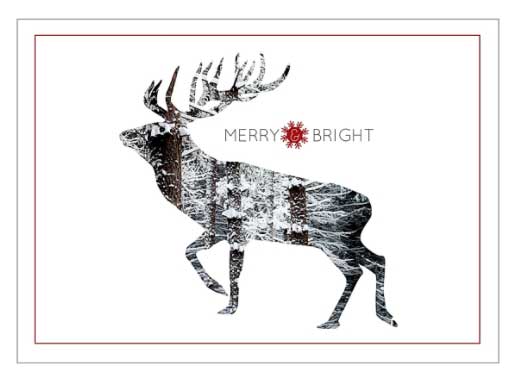 Snowy Reindeer free customizable holiday card template
2. Holiday sticker printing
Stickers are ultra-versatile holiday marketing tools. You can print holiday stickers featuring your logo and other branding that serve as:
Product packaging stickers
Envelope sealers
Gift labels
Address labels
Return address labels
Never underestimate the power of stickers for brand prowess: they can amplify word-of-mouth marketing for your business, and 90 percent of people trust word-of-mouth recommendations to make purchasing decisions.
3. Holiday calendar printing
There is truly no better way to put your brand in front of customers 365 days per year than with calendar printing. Calendars are useful and appreciated gifts; select the right calendar theme, and your customers will display your calendars year-round.
You can print wall calendars that feature images your customers will be proud to put on display; or, print desk calendars your business customers will use as daily reference tools. And with minimum order quantities of 25 (wall calendars) and 10 (desk calendars), you don't need to invest much to give your best customers holiday calendars – especially when you consider calendars deliver one of the cheapest costs-per-impressions of any marketing tool, online or off.
4. Holiday flyer printing
If you're hosting a special Black Friday or Cyber Monday sale, you can boost business by printing holiday flyers to insert in local newspapers, place in prominent public locations, or even hand out on-site at shopping malls and in busy retail districts.
Holiday flyer printing isn't limited to retailers, either; you can promote your service-based business with holiday flyers. Night clubs, bars, restaurants, and entertainment venues can promote special deals and events with holiday flyers.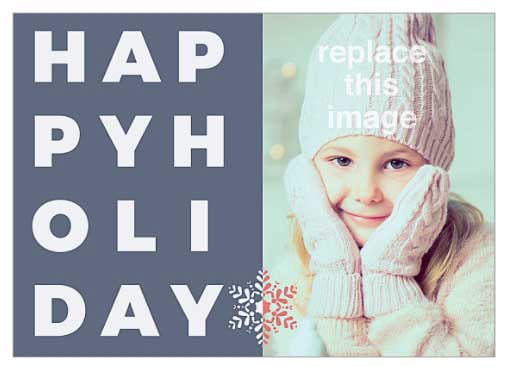 Holiday Snowflake free holiday card template
5. Holiday banner printing
Want some serious bang for your marketing buck? Reach the masses for minimal investment with holiday banner printing. Place banners at strategic locations to put your holiday specials in front of hundreds or even thousands of customers every day: busy roads and intersections, prominent public locations, outside shopping malls, and even near your competitors' storefronts!
6. Holiday wall graphic printing
Make a memorable splash with wall graphics that promote your holiday sales. Print large format wall graphics to place in prominent indoor and outdoor locations. Wall graphics offer adhesive backings so you don't have to worry about posts or grommets, and can be printed in sizes up to 8-foot by 4.75-foot for maximum visual impact. Don't be afraid to disrupt the holiday landscape with wall graphic printing!
7. Holiday window cling printing
Perfect for retail shops, window clings make it easy to market your holiday sales to window shoppers and passers-by. Print window clings to promote your special offers, sale items, and incentives such as hot chocolate and cookies to motivate impulse purchases during the holiday season.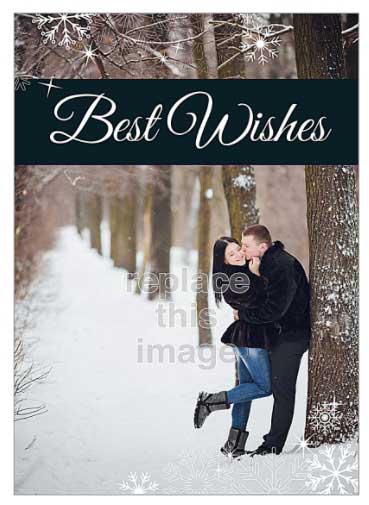 Snowflake Border free customizable holiday card template
8. Holiday catalog printing
The holidays wouldn't be complete without the barrage of mail order catalogs delivered to customers' doors. Make your catalogs stand out with premium full-color printing that draws attention to your special offers and lends desirability to your retail products. Not sure about printing holiday catalogs? Consider this: catalogs boast a 3.9 percent direct-mail response rate. Compare that to the 0.3 percent response rate for email prospect lists.
9. Holiday booklet printing
Booklets are outstanding marketing tools for savvy businesses that want to establish authority and credibility with their audiences. Print useful booklets packed with information, tips, and advice your customers yearn for and that's relevant to your business, then pepper the content with product mentions and recommendations. For example, you could print booklets that detail how to throw the perfect holiday party; booklets that offer winterization tips for vehicles; or gift-buying guides that help customers select the right audio/video components for their home entertainment systems.
10. Holiday postcard printing
Direct-mail postcards are superb holiday marketing tools, perfect for retailers, service-based companies, and B2B companies alike. Postcards are the cheapest mailers and can help you market anything to any audience. They're also excellent money-savers; for example, you might not have the budget for a multi-page catalog, but you can tease your product selection and send customers online (with a coupon code) to view your entire offering with postcards. Best of all, direct-mail postcards offer a 5.3 percent response rate for house lists, 2.9 percent for prospect lists, and 27 percent average ROI.
Ready to boost business this holiday season? Maximize your ROI with premium discount holiday printing services.