Ready to host an amazing graduation party to celebrate your graduate's success? Whether you're planning a high school or college graduation party, you can increase attendance and showcase your grad's achievements with the following 10 must-have graduation party printables.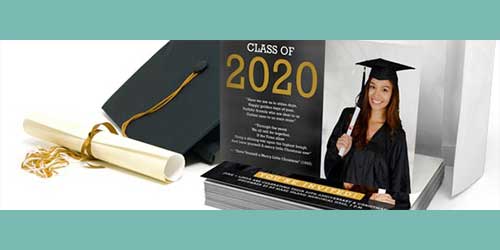 1. Graduation invitation cards and envelopes
You can't hold a graduation party without guests, so print custom invitation cards featuring your graduate's photo and personalized information that highlights their accomplishments and gets guests excited about attending. Use PsPrint's free online design tool to make your own graduation invitation cards – simply pick your favorite party invite template and color scheme, then follow the prompts to point-and-click your way to a custom graduation card. Don't forget to print matching envelopes!
2. Envelope seals
You can also print custom envelope seals featuring your graduate's initials, photo, or whatever text or image you'd like. Use roll stickers or sheet stickers as envelope seals to give your invitations a personalized, professional finish.
3. Return address labels
Similarly, you can make your graduation invitations visually attractive while saving yourself from hand cramps by printing personalized return address labels. Your design can feature any text, images, icons, or logos you'd like. Combine custom return address labels with personalized envelope seals, invitations, and envelopes for a complete graduation party invitation package guests will be thrilled to RSVP for.
4. Save the date magnets
Consider adding a custom save-the-date magnet to your graduation party invitation package. They're excellent reminders guests will see every time they go to their refrigerators; plus, they can serve as mementos long after your graduate has moved on to the next stage of their education or professional career.
5. Banners and yard signs
Celebrate your graduate's success with large party banners, which can double as directional signs leading guests to the party. You can also print yard signs to bring guests in – perfect if your party is held in a location that's off the beaten path. Don't make guests rely on GPS navigation or confusing directions. Let yard signs lead the way!
6. Table tents
Tell your graduate's story on table tents placed on each and every table at the party. Your table tents can feature the graduate's photo and bulleted highlights from their academic, sports, and extracurricular activities. Or, have a bit of fun by adding amusing anecdotes or trivia about your graduate to your table tents.
7. Posters
Supplement your celebratory banners with posters that feature your graduate's photo and highlight their achievements. Posters can be placed on walls throughout your party venue; and, they can be used as signage to help guests find your party – especially if it's being held in an indoor entertainment facility featuring multiple rental halls.
8. Booklets
Putting a scrapbook on display at the graduation party? Turn it into a printable booklet that lets guests take home a memento featuring photos, newspaper clippings, and selected achievements. Booklets also make it easy for attendees to learn more about the guest of honor without crowding a single table.
9. ID badges
If you're expecting a lot of guests at your graduation party, you should consider printing ID badges that identify key attendees and their relationships to the graduate. You can even have a bit of fun with it by prompting guests to add a favorite phrase or memory about the graduate – perfect for sparking conversation at your event.
10. Thank-you cards
Once the party is over, there's still more to do: namely, sending thank-you cards to everyone who attended or sent a gift. Just like graduation invitations, you can print your own custom, personalized thank-you cards with PsPrint's free online design tool. Use leftover envelope seals and return address labels to lend a professional look to your presentation.
Ready to celebrate your graduate in style? Do it for less with premium, discount printing services.