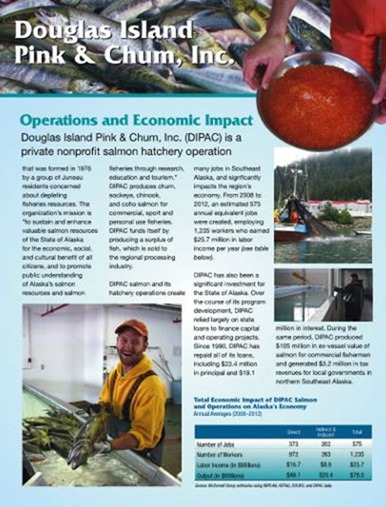 Newsletter cover by InterDesign's Matt Knutson for Douglas Island Pink and Chum
Newsletters can be powerful marketing tools that fuel sales, connect with customers, and help you grow your business – provided you do newsletters right. Here's how to own 2015 by printing monthly customer newsletters.
Get to the point
First and foremost, you need to define what your newsletter is about. Your newsletter should be relevant to your business and your customers, so find common ground: How can you help your customers with newsletter content? What do your customers want to learn more about? Take time to poll your best customers to find out the answers to these questions, then develop newsletter content to meet customer demand.
Focus on helping your customers
Your newsletters should include content that focuses on helping your customers, not overtly selling your products and services. You want to position your brand as the authority in your field, and the only way to do that is to give your customers honest and accurate information. Sure, you can sprinkle your products and services into the copy, but don't turn your newsletters into advertorials. Promote your products and services with ads instead, so customers can tell the difference between editorial and advertising content.
Feature your customers
Print case studies highlighting how you helped real customers; get direct quotes from your customers and let them tell the story from their point-of-view. Publish customer photos, answer customer questions, and spotlight a "customer of the month" to help demonstrate how much you value your customers.
Have online content? Link to it
If you have online content you want your customers to view, simply use QR codes and easy-to-remember URLs so customers can quickly visit your videos, tools, and apps from any device. Your newsletters should work with your online campaigns to maximize your success.
Present VIP offers
Give customers incentives to subscribe to your newsletter and reward them for doing so with VIP-only special offers, delivered exclusively through your newsletter. You can easily track coupons and coupon codes to determine your ROI from such offers. If you incorporate these tips into your newsletter marketing campaign, you'll earn customer trust by offering expert and honest advice, you'll earn customer loyalty by earning trust and by demonstrating how much you value your customers, you'll keep your brand top-of-mind with monthly communication, and you'll make more sales because you can create desire and present special offers to loyal customers who trust you and want to buy from you. What better way to grow your business in 2015?