You know sending holiday cards to your customers is a great way to foster relationships, but have you considered how custom holiday card printing can bolster your message and lend a more positive impression of your company? The following details three reasons why you should print your own custom holiday cards.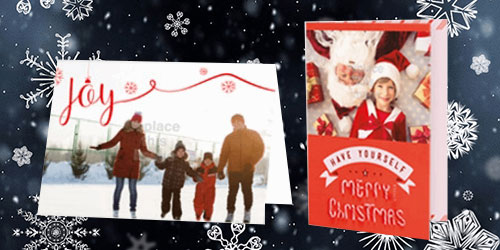 1. Custom holiday cards offer powerful branding
Sure, you can buy generic holiday cards from the store, but they cheapen your overall image as it's obvious they're store-bought and it's likely other companies are using the same holiday cards. The last thing you want is for your customers to get the same holiday card from a competitor!
Custom holiday cards grant you more control over your messaging. You create the message, the design, and the tone of your greeting. Your logo is prominent, and you can add photos of your staff members or family, in the case of small businesses, to give your holiday cards a more personal touch.
2. Custom holiday cards offer meaningful personalization
Speaking of personal touches, when you print custom holiday cards you can personalize your message for each customer. Consider writing personalized notes to your best customers. Design your holiday cards to feature your team or family members, thereby creating a sense of solidarity with your customers.
When you print matching envelopes, you can opt for a handwritten font on the address label, which will increase your open rate and help your holiday cards appear more personalized. Remember that customers buy from people, not businesses, so the more personal approach you take with your holiday cards the more meaningful they'll be to your customers.
3. Custom holiday cards are affordable
You might be surprised to learn that printing custom holiday cards isn't expensive; in fact, it's one of the most cost-effective ways to reach customers during the holiday season. You don't even need to hire a designer – instead, use PsPrint's free holiday card design tool to point-and-click your way to a custom design. You can add your own text, images, logo, and more!
Take advantage of holiday card printing discounts to minimize your investment. For example, with PsPrint's 50 percent off deal, you can print 100 4-inch by 6-inch flat holiday cards (which can be mailed like postcards), full color on both sides, for around $30. Add in envelopes for around $10 more.
Or, print 100 5-inch by 7-inch folded holiday cards, full color on both sides, with envelopes for around $120. Either way, flat or folded holiday cards are free to design, cheap to print, and affordable to send.
Don't jeopardize your image and waste an opportunity to connect with customers by sending generic store-bought holiday cards; instead, print custom holiday cards that have real meaning and foster long-term customer relationships.