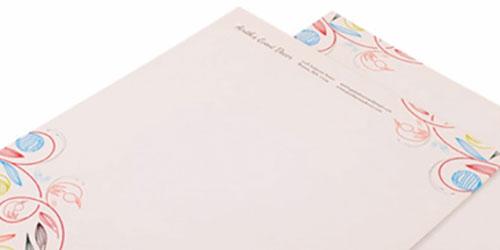 Whether you're printing corporate letterhead or personalized stationery, one of the greatest benefits is the chance to brand your communications. Your stationery can feature any design you can imagine, whether you create it yourself, hire a professional designer, or customize a template with PsPrint's free online design tool.
Stationery personalization isn't limited to design, however; in fact, your choice of stationery paper stock plays a major role in how your communications are perceived. Cheap, flimsy paper makes your company (or your own words) seem likewise cheap and flimsy. Thick, textured paper lends strength and credibility to your message. That's why linen stationery is an excellent choice for corporate letterhead and personal stationery. The following lists five reasons you should consider linen stationery for your direct-mail communications.
1. Linen stationery differentiates you
Whether you want to outdo your competition or simply lend a certain level of personalization to your voice, linen stationery's properties can help you do it. Printed on 80 lb. paper stock, linen stationery is thick and heavy – attributes that have been shown to increase buyer confidence.
Linen stationery is also textured, so it feels great when recipients hold it in their hands. It adds a powerful yet elegant touch to your communications your recipients will notice (and your competitors won't have).
2. Linen stationery looks amazing
You can print your letterhead on either brilliant white or natural white linen stationery. Brilliant white is an excellent all-purpose stationery that works well with multi-colored designs. Natural white has a creamy appearance that makes your stationery seem more sophisticated. It's best-suited to solid-colored designs. When your stationery looks crisp and professional, and your colors pop off the paper, your brand – corporate or personal – gains credibility.
3. Linen stationery is eco-friendly
Both brilliant white and natural white linen stationery paper stocks are comprised of 30 percent post-consumer waste, the most eco-friendly type of recycled material. Post-consumer waste is that which has been used for an intended purpose, then recycled (think newspapers, magazines, and packaging); as opposed to pre-consumer waste, which is paper that has never been used by consumers (think factory floor trimmings). If you have a green agenda, you can feel good about printing linen stationery.
4. Linen stationery is compatible with your printer
PsPrint's linen stationery is compatible with both inkjet and laser printers, so you don't have to buy any special equipment to print your personalized communications. You can also print matching envelopes to give your direct-mail letters, sales packages, and marketing materials a cohesive, well-branded appearance.
5. Linen stationery is affordable
Best of all, you don't have to break the bank to make your brand stand out with linen stationery. In fact, you can print 500 sheets of custom linen stationery for less than $100. Take advantage of discounts, and your price is even lower. PsPrint, for example, often offers discounts of as much as 15 percent off, which brings your price closer to $80 for 500 sheets of linen stationery.
Print premium linen stationery at discount prices today.