For many businesses, brochures represent an integral part of the sales cycle; and if you want to command the attention of potential customers and best your competitors, that means you need a brochure that stands out. Fortunately, it's not hard to print brochures that compel customers to favor your brand, products, and services. Start with the following five easy ways to make your brochure stand out.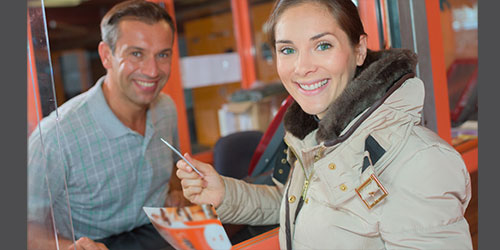 1. Beautiful design and compelling copy
Your brochure design and copy play major roles in your success. Great brochures often feature:
Large, full-color images
Creative design
Excellent branding
Easy-to-follow layouts with plenty of white space
Large headlines that convey critical customer benefits
Bulleted benefit lists
Strong calls to action
You don't have to be a professional graphic designer (or even hire one) to create beautiful brochures. All you need is a free brochure template that can be easily customized with PsPrint's online brochure maker. Use it to create your own brochures, adjust your colors, upload your own images and logo, and insert your own text so you can print custom brochures in no time.
2. Premium paper stock
A lot of discount brochure printers offer thin gloss and matte paper stocks, but you can make your brochure stand out with thicker paper stocks such as 100 lb. gloss cover, 80 lb. recycled matte cover, 100 lb. gloss text or 70 lb. matte text.
Or, showcase your brand with unique paper stocks that look and feel great in customers' hands. Examples include:
13-point eco-friendly 100% recycled matte cover stock
80 lb. 100% recycled uncoated text
Brilliant white or natural white 80 lb. linen text
Do not underestimate what your paper stock says about your brand, products, and services; it can be the difference-maker between a brochure that gets tossed in the trash bin and a follow-up phone call.
3. Folding and binding
Skip the typical trifold and make your brochure stand out with attention-getting folds including half-folds, Z-folds, gate folds, and accordion folds. You can even opt for right-angle half-folds and double-gate folds for a compelling visual presentation prospects will notice – and remember.
Not sure about the differences between each type of brochure fold? Visit the brochure printing page and scroll down to click the "options" tab for links that explain each type.
You can also print brochures as multi-page bound booklets to lend a distinguished appearance to your company.
4. Brochure size
Most of your competitors probably print brochures on standard 8.5" x 11" paper, and that presents an opportunity for you to differentiate your business by printing extra-large brochures. Instead of the standard letter size, consider printing:
8.5" x 14" brochures
11" x 17" brochures
11" x 25.5" brochures
Remember, in many cases bigger is better – especially when you're trying to get customer attention!
5. Interactivity
Finally, you can make your brochures stand out by incorporating interactive features. For example, you can include a QR code that sends customers to your website, social media page, or mobile app. Even better, develop an augmented reality platform so customers can hover over your brochure with their mobile devices to access 360-degree product views, informative videos, and additional resources that compel them to buy from you.
If you're going to invest in brochures, don't just go through the motions. Instead, brainstorm creative ways to make your brochures more compelling so you can stand out from the competition and win more customers. Get started with premium, discount brochure printing today.