When you're planning your wedding, your focus is primarily on your special day – but nearly as much thought and energy goes into planning the rehearsal dinner as the main event. In both cases you need your guests to arrive on time, you need to plan a menu, and you need to make sure everything runs smoothly so guests and the lovely couple enjoy themselves. The following lists five must-have wedding rehearsal dinner printables that will help you plan the perfect event.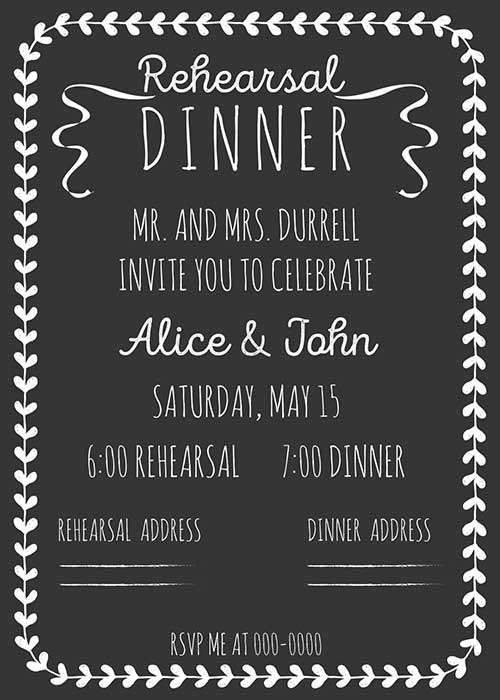 1. Wedding rehearsal dinner invitations
Bridesmaids, groomsmen, parents, grandparents, and wedding officiators need to know about your rehearsal dinner, so the best way to get the word out is to send wedding rehearsal dinner invitations. Your invitations should include:
Your invitation text
Whether guests/spouses are invited
Wedding rehearsal dinner date, time, and location (for both the rehearsal and dinner locations)
The menu (and entrée options, if provided)
Anything guests should bring and dress code (casual or formal)
RSVP card
Easy-to-pin save-the-date cards or save-the-date refrigerator magnets
By sending formal wedding rehearsal dinner invitations, you can be sure no one is unsure whether they're invited and that your wedding party and closest family members arrive on-time.
2. Wedding rehearsal dinner invitation envelopes
Place your wedding rehearsal dinner invitations in matching envelopes to lend importance to your event. You can have your envelopes custom-designed to match your invitations; or, opt for a high-quality envelope paper stock so your mailed invitations look and feel amazing. This will help ensure they're opened and read, so no one misses your wedding rehearsal dinner.
Add a touch of elegance or a splash of fun to your wedding rehearsal dinner invitations with custom-designed envelope seals and address labels. These make your invitation packages appear more professional and attractive, and also add a touch of personalization that gets your mailed invitations noticed and read.
4. Table tents
If you'll have assigned seating at your wedding rehearsal dinner, table tents are the perfect solutions for ensuring everyone sits in their assigned spot. Your table tents can include the name to match the seating on one side, and on the other site a list of other wedding party members or even a brief bio that others can read. The latter idea will help spark conversation at the dinner table, especially if many members of your wedding party do not know each other. Another cool idea is to have your table tents feature your favorite photos of each wedding party member with the bride or groom.
5. Name tags/ID badges
Name tags or ID badges can help introduce rehearsal dinner guests to one another. They're also great for helping wedding officiants and wedding planners keep everyone straight when you do the walk-through's, especially if you include the name of each person and their role in the wedding on your name tags/ID badges.
Ready to plan your wedding rehearsal dinner in style? Make your wedding rehearsal dinner special with premium printing services at affordable prices.