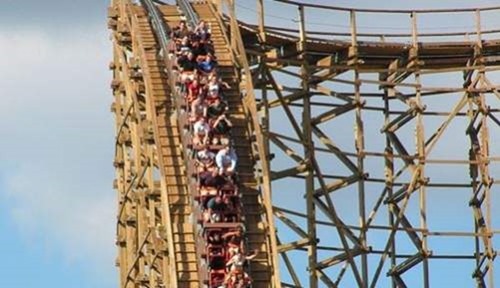 If you own or operate a summer recreation hot spot, you know you need sound marketing to best the veritable sea of competitors and grow your business. From waterparks and thrill parks to zoos, museums, themed hotels, outdoor shows, and even cultural county hubs, it literally pays to take advantage of the following five must-have marketing tools for summer recreation hot spots.
Strategically placed at visitor welcome centers, rest areas, hotels, and restaurants, rack cards are ultimate summer recreation business marketing tools. That's because they're well-positioned to attract your target audience. Of course, your competitors are probably using rack cards to market their businesses, too, which is why you need to print attention-getting rack cards that draw customers to your attraction.

Like rack cards, brochures can be strategically distributed where customers will find them; unlike rack cards, brochures can also be sent via direct-mail to targeted mailing lists: past customers, those who meet your customer demographics, and those who request information via your website or social media pages. You can print traditional three-panel brochures or large multi-page brochures (booklets), or anything in between, to market your summer vacation destination or attraction.

The rack card of direct-mail, postcards sent to well-targeted mailing lists can bring customers in droves. Print postcards that offer special incentives to visit your attraction this summer: discount tickets, for example, or a unique freebie (think Mickey Mouse ears for the kids). Postcards work great for generating leads, so you can also use postcards to get potential customers to sign up for your email newsletter, follow you via social media, or visit your website to learn more about a special package you're offering.
If you know where your customers live (and you should), you can print flyers to keep your hot spot top-of-mind all summer long. For example, a major theme park located roughly 100 miles from me annually places flyers in bank windows throughout my city. The flyers promote a special discount on tickets for bank customers; in fact, customers can order the tickets directly from the banks. This is a brilliant flyer marketing strategy: the theme park knows a lot of people from my city are customers, and it knows every customer in my city has bank accounts. The theme park can provide the banks with no-hassle perks to offer their clients, and customers ultimately save money while the theme park profits. I'm certain ours isn't the only city they target. Targeted flyer distribution doesn't need to be expensive or time-consuming to be incredibly successful.

If your summer recreation hot spot is a bit off the beaten path, print banners to place alongside busy roadways to introduce customers to your business and help lead the way. Banners are attention-getting and can create excitement, especially after long, boring road trips. You probably know what roads the majority of your customers travel; all you have to do is decide how many times you want to market to them on their way in and get your banners out there to literally drive traffic to your hot spot.

These aren't the only marketing tools for summer hot spots, but they're among the most essential when it comes to reaching targeted prospects who are likely to become customers. Consider how you can use each to grow your business, then add them to your summer marketing plan. And don't forget to get premium printing at discount prices!