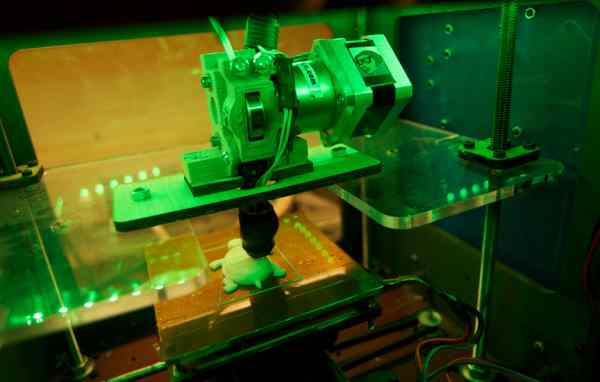 3D Printer by Keith Kissel, Creative Commons license via Flickr
True 3-D printing has finally become a reality, and one that is affordable for most small businesses and many science fiction fans. Unfortunately, 3-D printing is also affordable to criminals, which makes the threat of illegally manufactured and distributed firearms another reality. Software has been created to disable 3-D printers from making guns, but no one can really believe that will stop any dedicated amateur hacker from disabling the software. Regardless of your political stance on guns, it's fair to assume that gun printing is and will be possible with 3-D printing, and the criminal use of untraceable printed guns is a real threat to society. That being said, 3-D printing remains worth the risk.  Here are five reasons why.
1.  Innovation
Have you ever had a great idea for an invention, only to find that simply getting a prototype would require expense beyond belief?  How much innovation is lost to the expense of manufacturing?  Lots, probably, but 3-D printing makes prototyping far more affordable for sole inventors – which fosters innovation. Now, you can finally bring your "baby muzzle" idea to life!
2.  Small business growth
One of the major barriers to small business growth is manufacturing costs. The smallest companies can't afford to have their products mass-manufactured, therefore they can't get the lowest piece-rate. Thus, they can't compete on price. 3-D printing levels the playing field by making small-scale manufacturing as affordable as bulk manufacturing, which enables small business growth.
3.  Instant delivery
3-D printing may soon make it possible to order products for instant delivery.  Want a new iPhone cover?  How about a bicycle?  Order it on Amazon and have it printed on-location, ready-to-use in just a few minutes. Plus, free shipping!
4.  Bionic healthcare
Since each 3-D product can be printed individually, extreme customization is possible.  Need a new thumb?  You could print an exact replica of the one you lost when you tried to use the lawnmower as a hedge trimmer.  And in the future, 3-D printers might be able to replicate soft organs such as the heart and liver – no more waiting for organ donors.
5.  Opportunities for designers
If you're in the design industry, you'll have more opportunities for work.  In fact, an influx of micro businesses built around 3-D printing could spur the entire economy.  They'll need designers to make their inventions and products printable (and, of course, for marketing).
3-D printing is in its infancy, and there's no telling what its future capabilities will be.  As with any technology, there is always the threat of misuse. The risk of criminally employed 3-D printed guns is very real, but 3-D printing is worth the risk.  If Henry Ford had known the automobile would lead to more than 30,000 motor accident deaths in the U.S. every year, would he have built the Model T?