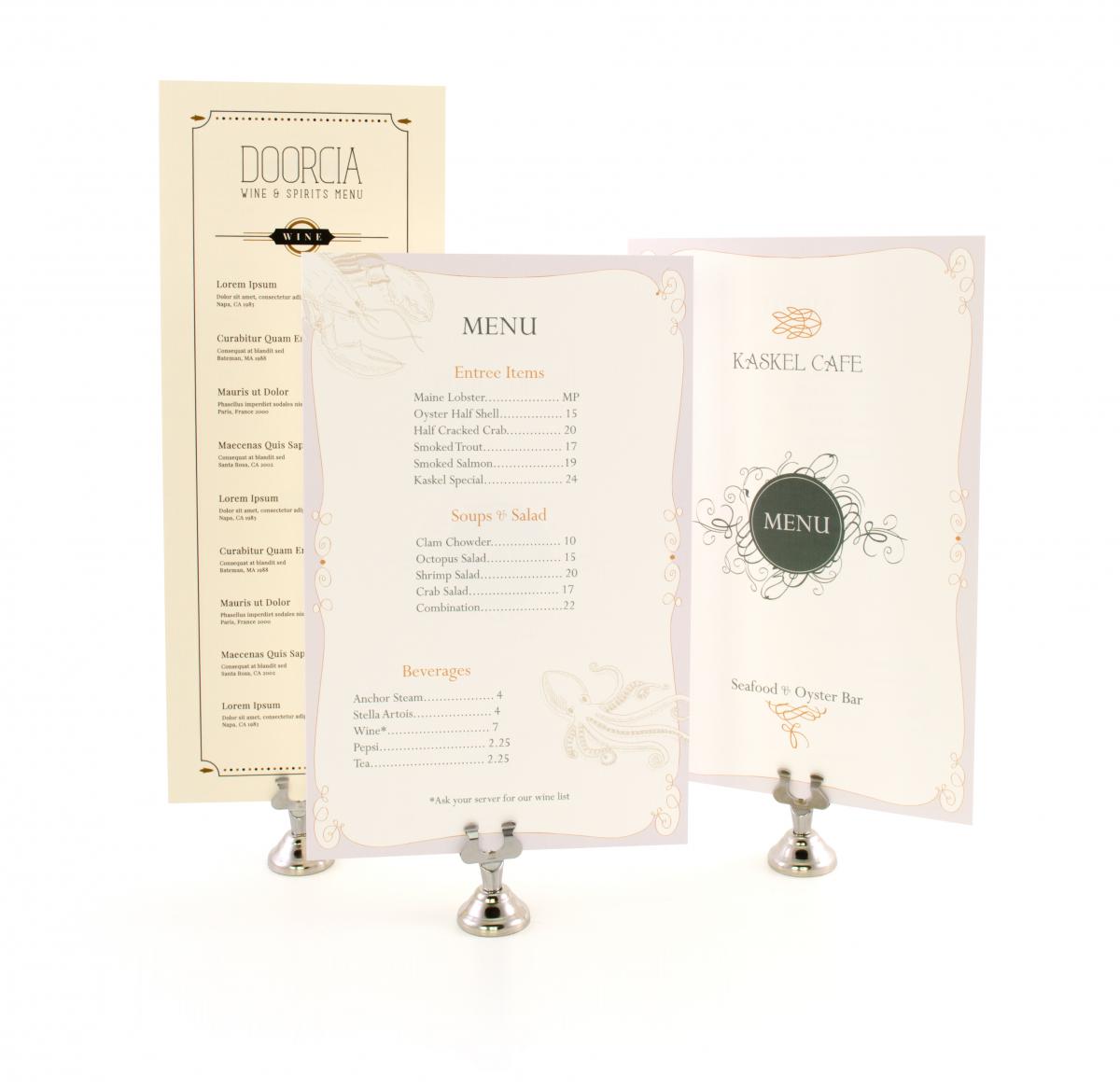 Do you operate an upscale restaurant, elegant winery or tasting room, modern brewpub, or trendy bistro or café? If so, you should consider printing premium menus. The following lists five great reasons to print premium menus for your restaurant.
1. Unique paper stocks
Premium menus offer you a choice between three unique paper stocks designed to set your establishment apart from competitors. These paper stocks can align with your décor theme and enhance your atmosphere, and thus your patrons' experience.
Choose either light brown kraft paper, which is perfect for bars and breweries that want to achieve a rich, rustic, repurposed look; brilliant white linen paper, which is great for full-color designs and a crisp, clean, classic look; or natural white linen paper, a perfect selection for sophisticated, high-end eateries.
Each paper type is comprised of 30 percent post-consumer waste, making premium menus an eco-friendly option for environmentally-conscious businesses.
2. Elegant simplicity
Premium menus are printed as two-sided, single-sheet cards, so they're both elegant and easy for customers to peruse. Contemporary design trends call for simplicity, and patrons tire of wading through confusing multi-page menus that distract them from your bestselling (and most profitable) menu items. Make it easy for patrons to find what they want and order quickly with premium menus.
3. Cool customization options
Premium menus are available in a variety of standard sizes; or, you can have them printed in any custom size you'd like.
Want to make your menus even more visually compelling? Have them printed in a cool die-cut shape that matches your establishment's theme. Or, print multiple menus, each with a different purpose: a drink menu could be shaped like a margarita glass, for example, and a dessert menu could be shaped like a slice of pie.
You can also elect to add elegant, attention-getting foil stamps to your menu. If your establishment has won an award, design menus with a foil-stamped award seal. Or, incorporate foil stamps into your logo, headline text, or even an image or shape outline or fill.
4. Quick printing and affordable pricing
If you need premium menus fast, PsPrint can turn them around in as little as one business day and expedite shipping to get them in your hands in no time. Plus, with affordable printing options you can print premium menus that look like they cost twice as much to print. Take advantage of special periodic discounts to save even more on your menu printing.
5. Powerful branding
What does all of this add up to? Powerful branding for your restaurant. Premium menus are more than eye candy; they combine visual and tactile stimulation that lend a sense of cohesiveness to the experience you offer. Whether your brand is sophisticated, elegant, rustic, or cutting-edge, premium menus play an integral role in delivering that experience to your customers.
Want to make your menu items and your restaurant more appetizing? Print premium menus today!