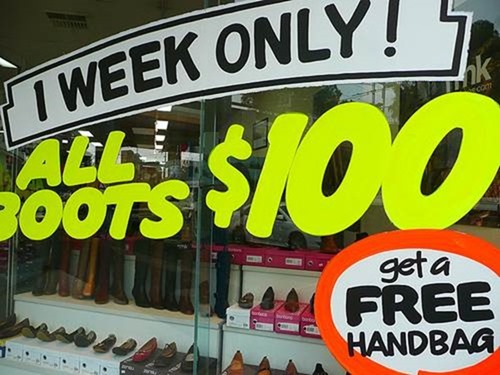 Summer can be a slow season for some retailers as families focus on travel before the fall shopping spree; however, that doesn't mean you can't still promote profitable summer sales with an intelligent marketing strategy. If you want to increase revenue, consider the following five tips for marketing summer sales.
1. Make it matter
Go big or go home. That is to say, you have to start with an incentive your audience will find attractive enough to act on. You don't have to give away the farm, but make sure your discounts, buy-one-get-one-offers, or other sales incentives are good enough to command attention and still yield a profit.
2. Reach customers on their terms
Consider the best ways to reach your customers this summer: where do your customers go? Many people get out and about during the summer season, which means banners, posters, flyers, stickers, and other outdoor marketing tools are perfect for marketing summer sales. If it's really hot, customers tend to seek refuge in their air-conditioned homes – a perfect opportunity for postcard marketing.
3. Attract impulse buyers
Design marketing materials to attract impulse buyers on-the-spot. If you're located in a downtown shopping district or a mall, for example, you can employ big, bold banners and window clings to create excitement and get customers in your door.
4. Repetition sells
The more customers see your special sales offer, the more likely they'll be to remember it and respond. Never post just one flyer – post hundreds of flyers so your customers are sure to see them multiple times. Consider sending two or three postcards, brochures, or other direct-mail pieces to promote your sales campaigns. Develop a strategy that creates desire, then deliver a time-limited special offer that customers can't resist.
5. Engage in multi-channel marketing
Don't limit yourself to just one marketing channel; each strategy has its pros and cons, but together they can result in a high-impact marketing campaign that delivers powerful results. Print postcards, posters, and banners to promote your summer sales, but also engage in online, mobile, email, television, and radio marketing to reach your targeted audience and increase response. Marketing summer sales isn't rocket science, but it does require a strategic approach designed to maximize your return on investment. Start your summer sales marketing campaign now. photo credit: June 20 via photopin (license)
---
For more marketing tips and ideas, check out our How To Jumpstart Your Marketing guide.