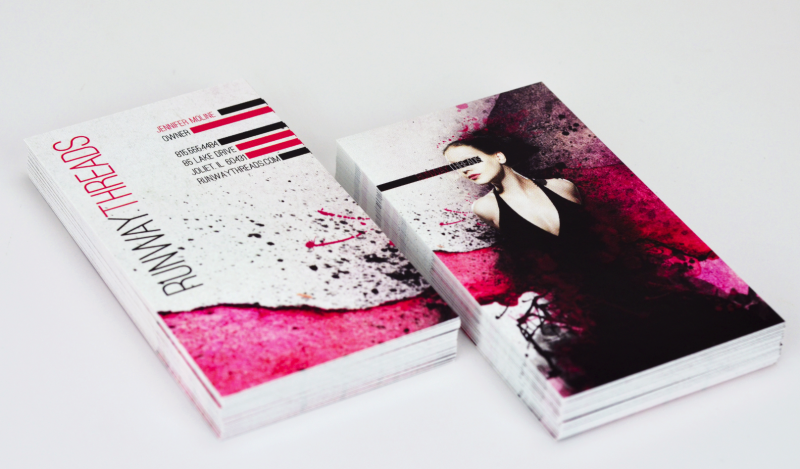 Want to add premium appeal to your marketing materials? Try printing them on 15-point velvet paper stock. Velvet paper stock has several benefits, including a soft, velvety texture that suggests tradition and elegance, a unique sheen that lends elegance, and a heavy weight for durability and a sense of importance. Collectively, these attributes make anything printed with velvet paper stock appear to be of premium-quality – and studies have shown that perception event extends to the products and services your marketing materials promote. Here are five uses for velvet paper stock that will help you influence customers.
1.  Business cards
Business cards are your go-to marketing tool; cheap to produce yet often employed, business cards are handed to everyone you meet (or, at least, they should be). Lend depth to your person by printing velvet business cards.
2.  Postcards
Direct-mail postcards printed on 15 point velvet paper stock seem more important than their high-gloss counterparts. Boost your return on investment with velvet postcards.
3.  Greeting cards
Let customers know how much you value them by printing greeting cards on velvet paper stock, which is likewise perceived as being valuable (even though it's relatively cheap to print on).
4.  Invitation cards
Give guests the VIP treatment with invitation cards printed on velvet paper stock, which lends the impression that your event isn't to be missed.
5.  Club card flyers
When so many other competitors are trying to lure customers away from you, a well-designed velvet club card flyer can be the difference between crickets and a full house. Velvet paper stock won't sell your products and services for you, but when employed in combination with excellent design and best branding practices it can enhance your brand image, help convey your company's best qualities, and even motivate how your customers perceive your products and services. As part of a comprehensive marketing strategy, it can literally pay to print marketing materials on velvet paper stock.