Planning the perfect graduation party is both exciting and stressful, but you can alleviate some of that stress and simultaneously create excitement for your graduate and guests by printing graduation party banners. Banners can play dual roles as useful tools and display pieces at your graduation party. Find out how to get the most out of them with the following five ways to use graduation party banners.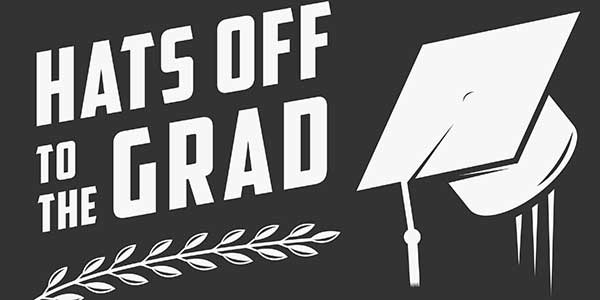 1. Congratulatory banners
Congratulatory banners are graduation party staples. They typically feature large text ("Congratulations Jimmy!") and the class year ("Class of 2017"), but you can include anything you'd like on your graduation party banners: photos, school mascots and logos, nicknames, and more. Place congratulatory banners in prominent locations at the party: near the guest of honor's table, draped above the food or refreshment table, or right at the entrance to your venue.
2. Photo banners
Graduation party guests love to browse photos of the graduate, often placed in scrapbooks at a memory table. You can keep lines down with by placing your favorite photos on a large banner and hang it in a prominent location that can be viewed from every table. Photo banners are fun ways to quickly recap the graduate's life to-date, and can also direct guests' eyes toward the memory table where they can peruse more photos, awards, and other mementos.
3. Direction and venue banners
If your graduation party venue is off the beaten path, you can print banners that lead guests to the big event. Include text that references the party along with directional arrows to help guests make turns at the right intersections ("Jimmy's Graduation – Turn Right"). It's a great way to help guests arrive on time without the use of GPS, especially since many guests might not use GPS or in situations in which the venue does not appear on navigational systems.
4. Keepsake banners
Print large banners featuring plenty of white space, and set out colorful permanent markers on a table so guests can write congratulatory, inspirational messages to the graduate. These banners can be given to the guests as keepsakes after the party, and help guests feel involved in your graduate's milestone and next phase of life.
5. Future banners
What's your graduate's next step? Print a banner that proudly features their plans, whether it's the name of the college they'll be attending, the branch of military they're enlisting in, or a career path they're embarking on. If the future is uncertain, you can replace these ideas with lists of past accomplishments; in either case, these banners serve as excellent conversation starters at your graduation party.
Ready to print your own graduation party banners? Get premium banner printing at discount prices today.