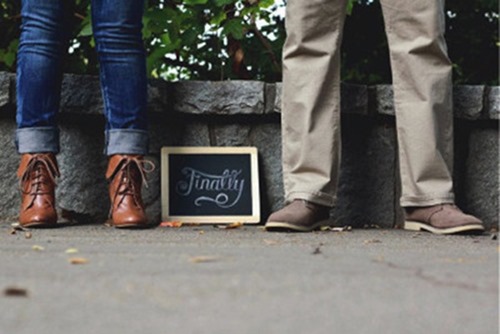 Wedding invitation card design by PsPrint customer Jessica Rycheal
Planning your wedding is one of the most exciting yet stressful experiences you'll ever have, especially when it comes to collecting invitation RSVPs. Wedding RSVPs are critical to your special day; they help you make important decisions such as:
how much food needs prepared
how many tables and chairs you'll need
how much time you'll need between the service and reception
how you'll need to lay out the reception hall to accommodate guests efficiently
how much your wedding is going to cost
Though sending wedding invitations is often simple and fun, tracking down RSVPs can be a time-consuming hassle when you're trying to pull together the rest of your wedding details. Fortunately, there's an easy way to increase wedding invitation RSVPs: include a response card with self-addressed stamped envelope. Wedding invitations are typically designed to showcase the couple to be wedded; they're beautiful expressions of the merging of people, personalities, and families via a loving relationship. They offer basic information: your wedding date, time and location, for example. However, wedding invitations are not marketing tools and traditionally do not include elements proven by marketers to motivate response. That's a shame because response is exactly what you need from your wedding invitations. Response cards with envelopes packaged with your wedding invitations will make your wedding invitation design so powerful however you'd like and still include what marketers refer to as a call to action. Don't worry – you don't have to cheapen your overall presentation with lots of marketing slang; the pure existence of an "action piece" helps motivate response. A great wedding invitation response card should include:
a benefit for responding (for example, have guests select which type of meal they'd prefer, or whether they want a meal at all)
a time-limited call to action (this is your RSVP-by date, which should reinforce the idea that the response card will be used to calculate catering needs)
a bit of humor – you don't have to be gimmicky, but having a bit of fun with your request can have more impact and make it more memorable
a self-addressed stamped envelope (this makes its super-easy for guests to reply)
alternative RSVP options – your wedding website, email, text, phone, social media page, etc.
a way to track responses; you might consider assigning each guest a number on a spreadsheet and lightly mark response cards with their corresponding number to make it easy to mark RSVPs – especially for those who forget to write their names on their response cards
checkboxes and fill-in forms for names, number of guests (for family RSVPs), selected meals, whether they're coming to the wedding, reception, or both, and anything else you want to know. Make it easy to quickly respond
When you include a response card with envelope in your wedding invitations, you're stressing the importance of RSVPs and giving guests a tangible, actionable way to respond. As marketers know, this is a great way to increase response rate. Why not employ the same strategy for your wedding invitations?