What if you could give your customers something that was not only highly enjoyable but also incredibly healthy? What if you could give them a gift from the heavens, a mystical experience? Do you think they would remember your name?
Yeah, I think so, too. The thing is, it's really easy to give your customers such an experience – through humor, which according to psychologists and spiritual leaders the world over offers not only laughter but health, spirituality and a taste of mysticism. If you can make your customers laugh, or at least smile, they will feel good. They will pay attention to who you are, and recall the memory of the humorous moment many times over. Many marketers have already figured out that it makes sense to make people laugh when you're trying to establish your brand name, especially if the humorous setting injects a relevant poignancy that also makes your customers think. Major corporations often promote their brands through humor – we see it every Super Bowl. But when the majority of companies nationwide are small businesses, I'm amazed that many smaller companies never engage in humor-based marketing. If you want to level the playing field and brand your name equally well, you should consider launching a humor-based campaign. You don't have to have the millions of dollars necessary to reserve a Super Bowl spot, either; in fact, you can promote your brand through humor on the cheap with funny decals. Funny decals are incredibly inexpensive and can be creatively employed just about anywhere – where posters, banners, and yes, TV commercials, can never go. So get your creative juices flowing, watch a few "Three Stooges" episodes and work on deploying a funny decal campaign such as those listed below: Funny decal No. 1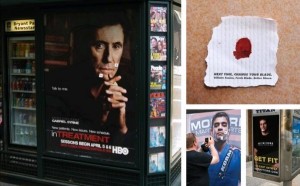 Gillette printed funny decals that looked like the torn toilet paper men use to stop bleeding after a shaving cut and placed them on posters with famous actors on them, encouraging passers-by to buy Gillette to stay nick-free. Funny decal No. 2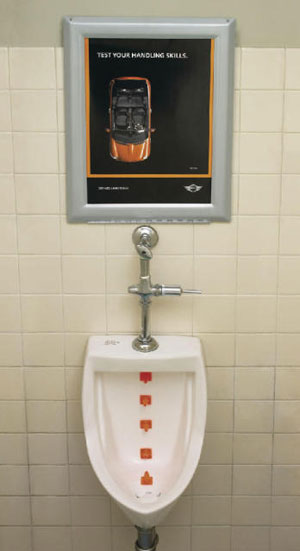 This Mini Cooper ad is a combination poster and set of funny decals that look like auto test cones stuck inside men's urinals so they can "drive the course." Funny decal No. 3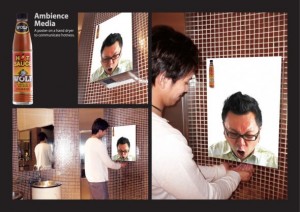 Wolf Hot Sauce is so hot that you'll be trying to cool your mouth with enough air pressure to blow dry, as depicted in this funny decal. Funny decal No. 4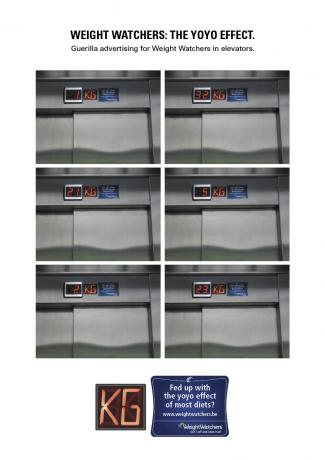 Weight Watchers used funny decals next to elevator floor numbers to mimic the yo-yo effect other diets have on your weight. Funny decal No. 5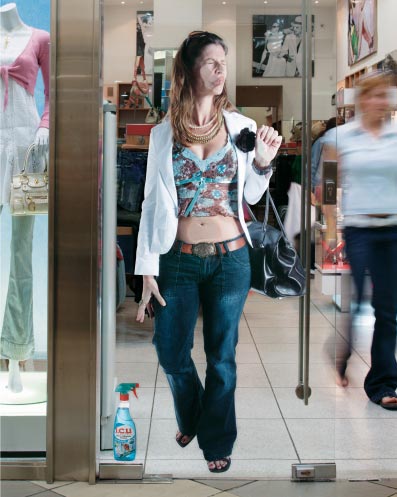 This funny decal is from a series that proves I.C.U. Glass Cleaner works so well, you won't even know the glass is there.