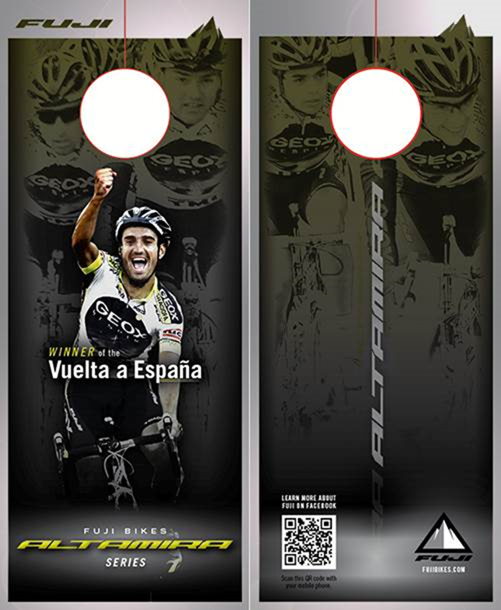 Hang tag design by Nathan Goik
Hang tags are some of the most useful, yet overlooked, marketing tools in the retail industry. Most of the hang tags I see are little more than branders with a price tag.  The better hang tags I see go the extra effort to feature product benefits, branded company stories, and calls to action. If you're in the retail industry, you should consider hang tags as a way to boost sales right on the rack. One relatively new way to make your hang tags more powerful is to add interactive features. Thus, your business challenge this month is to print interactive hang tags.  Here are five steps to doing it right.
1.  Pick a product
It's important to pick the right product to promote with interactive hang tags. If you can tell a story, you'll have an easy way path to interactivity. A clothing company, for example, might want to tell the story of how its materials are all eco-friendly. A sunglasses company might want to tell the story of how their designs are crafted, thus reinforcing brand image. A knife maker might want to tell the story of how their blades are sharper and more durable than competitors. Come up with a product story that resonates with your audience, and you have a good product candidate for interactive hang tags.
2.  Understand your audience
Once you have your product, consider how you can bring your customers into your story.  What will your customers respond to?  The goal is to feature interactive content your customers can relate or aspire to.  Or, in the case of discount retailers, the goal could simply be to collect contact information in exchange for a discount. More on this in the next section.
3.  Create interactive media
There are many creative ideas for interactive hang tag media. My favorites include videos that tell your story and relate to your customers and quick, interactive games that help collect contact information.  Customers can scan your hang tags with their smartphones to see a video about your company's heritage, why this particular product is best for them, real-world case studies, or even how-to's.  Or, they scan your hang tags and play a quick game, "like" your Facebook page, enter their contact information, or "check in" on social media – any of which could result in an instant discount.
The the former example, you're stirring emotion and getting customers to buy into your company culture and brand. In the latter, you're motivating action by guaranteeing an instant discount. Be creative – you might be able to find a way to combine both scenarios to generate even more sales.
4.  Print your hang tags
Once your hang tags and interactive media are designed, it's time to go to print. Make sure you print QR codes or other scannable media in a prominent place, and include a call to action to get customers to scan. It's also a good idea to suggest a scanner app in the event they do not have one.  Not every customer who has a smartphone is tech-savvy, so make sure your employees are trained to help customers add scanners to their phones so they can take advantage of your interactive hang tags.
5.  Track response
Make sure you incorporate tracking mechanisms to determine how effective your interactive hang tag marketing campaign is. You can track your interactive media views, instant discount sales, and social media "likes" and "shares" generated by your hang tags. When your campaign ends, you'll have a control you can use to test other interactive hang tags against so, over time, you can develop powerful interactive hang tags with predictable – and profitable – results.
How else can you improve your hang tag marketing?