Print marketing is one of the most powerful and effective ways you can promote your business and influence direct sales. Direct-mail marketing is one of the most compelling forms of print marketing. When you incorporate a multi-channel marketing campaign into your marketing strategy, you're able to saturate the market with your message and, in many cases, earn an impressive return on investment.  The following six cheat sheets for printing and mailing will help you develop more effective and profitable print marketing campaigns.
There are many different ways you can have your brochures, sales letters, newsletters and other print marketing materials folded, and your fold plays a large role in your overall presentation.  Designer's Toolbox offers this handy cheat sheet that will help you decide which fold is best for a given printed piece.
It's important to know what to expect in postage investment before you develop a direct-mail marketing campaign.  Kelmscott Communications has put together this nifty cheat sheet to help you determine which is the best direct mailer for you.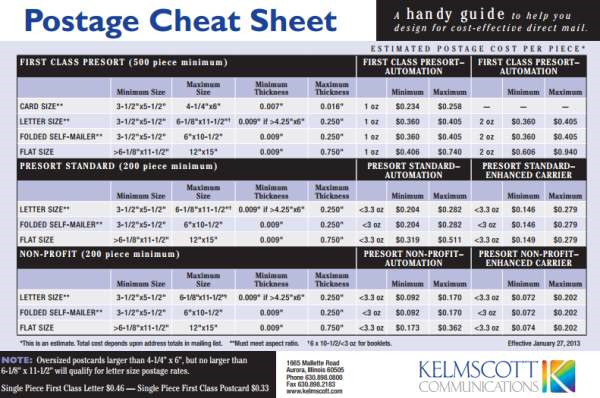 If you've been toying with the idea of entering the 3-D printing marketing, this cheat sheet from Cartridge Discount will help you learn more about different types of 3-D printers, what types of 3-D printing materials are available, advantages of 3-D printing, current 3-D printing industries, and projected future markets.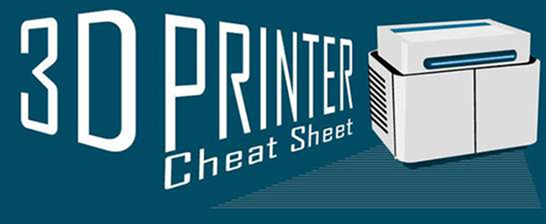 Who says the government can't be helpful?  The United States Postal Service offers their folded self mailer cheat sheet to help clarify how to remain within their mailing standards for more efficient mailings.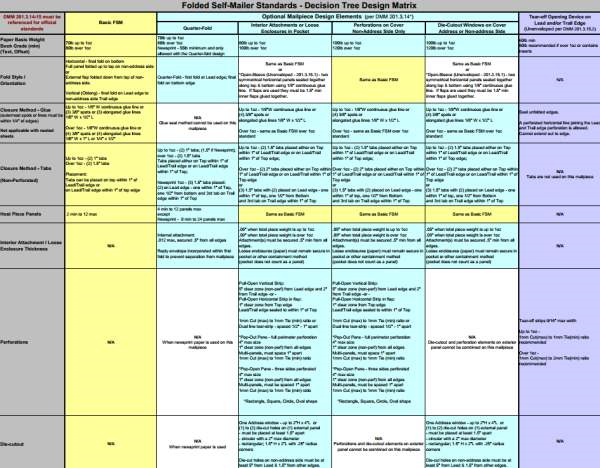 Another gem from Designer's Toolbox, this time featuring different binding options for various types of print marketing materials – including calendars, brochures and booklets.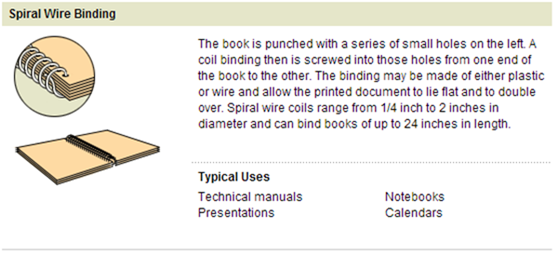 Not a single cheat sheet per se, but a series of free downloadable templates for various printing products that include proper sizing, resolution, and helpful guides for safe areas, cut lines and bleed lines.