You know custom Christmas card printing is a meaningful (and fun!) way to wish season's greetings to your customers, friends, and family; but, which type of Christmas card is better: folded or flat? Both types of Christmas cards have unique benefits, as detailed below.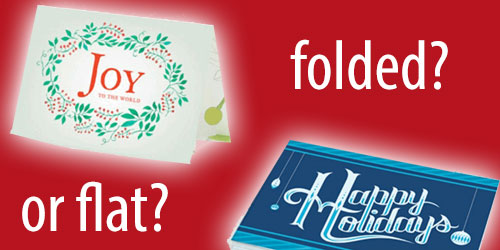 Benefits of folded Christmas cards
Folded Christmas cards are more traditional than flat Christmas cards, and they offer more room for your photos, messaging, and personalization such as handwritten notes. Folded Christmas cards are also good for enclosing gift certificates, tickets, and magnets.
They can be delivered in envelopes, which help protect your Christmas cards and likewise feature a traditional feel; or, you can print branded sealers and send them like postcards and reduce your overall investment.
To recap, folded Christmas cards:
Are traditional

Have more room for your "content"

Can enclose other items

Can be sent with envelopes or without using sticker seals
Benefits of flat Christmas cards
Flat Christmas cards feel more modern than their folded counterparts. Though they have less room for your messaging, they're also cheaper to print.
Like folded cards, you can send flat Christmas cards with or without envelopes – no sticker seals needed.
To recap, flat Christmas cards:
Offer a modern, even "cutting edge," look

Can be sent with or without envelopes – sticker seals not required

Are the cheapest type of Christmas cards to print and mail
Should you print folded or flat Christmas cards?
Ultimately, this depends on the brand image you want to convey as well as the investment you'd like to make. Folded cards delivered in envelopes are good choices for traditional businesses, while flat cards without envelopes might better suit contemporary brands. Your business might fall somewhere in between. Both folded and flat Christmas cards are available in a wide variety of sizes and paper stocks, which can help you establish your brand image.
What's more important is that your Christmas card design is unique to differentiate your brand from competitors, and your messaging resonates with your customers. If you can personalize your Christmas cards, even better!
The best part is you don't even need to pay a designer to print custom Christmas cards. All you need is PsPrint's free online Christmas card design tool – simply pick a professionally-designed template and color scheme, then follow the prompts to upload your own photos and add your own text. Customize the template to create your own unique design in mere minutes.
Ready to get started? Compare folded cards to flat cards, then create your own Christmas card design online today!