Whether you're sending wedding invitations or inviting guests to your nonprofit fundraiser, a complete save-the-date package is critical to boosting attendance. Save-the-date packages are perfect for weddings, birthdays, anniversaries, graduations, charity events, concerts, festivals, casino nights, dances, retail sales, sporting events, and any other event you're promoting. Make sure no one forgets about your special day and, if appropriate, earn more money with the ultimate save-the-date package.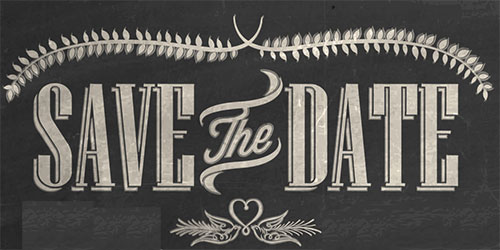 Invitation card
The foundation of your save-the-date package, your invitation card formally invites guests to attend your event and offers important details such as date, time, and location. Your invitation card can be printed flat or folded (and you can make your own invitations with our free online design tool).
Envelope
Instead of settling for a blank envelope, print envelopes that offer insight into your event. You can include photos and images, your event logo, or text such as "Save the date! Circus coming May 10th. Tickets enclosed!" Keep in mind your envelope is more than a delivery vehicle; it's a sales tool that can increase your open rate and ensure your invitations are read.
RSVP card
Include an RSVP card so you know how many guests to plan for. Your card should offer multiple ways to RSVP – mail, phone, email, social media, or website – and let your attendees indicate how many guests they're bringing and which entrée they prefer, if applicable.
Magnet
Print refrigerator magnets that remind guests about your event every time they get a glass of milk. Your magnet should feature a compelling design and prominently feature your event date for maximum awareness.
Menu
If you'll be serving your guests dinner or hosting a luncheon, you should include a menu so they can plan accordingly. This is true whether you offer guests a choice of entrées or not, since some might have to plan according to food allergies and personal preferences.
Brochure or booklet
If you're holding a festival, multi-day event, or a major celebration, you can include your event brochure or event guide in your save-the-date package. This will help generate interest and answer FAQs, and work to increase attendance.
Flyer
If you're hosting a concert or other performance art, you can consider including a flyer in your save-the-date package. Your audience will hang your poster, increasing the chances they'll remember to attend and exposing your event to their peers.
Stickers
Include fun stickers featuring your event in your save-the-date package. Your most fervent fans will affix them everywhere, thereby increasing your event exposure.
Event tickets
Include event tickets to increase excitement for your event. It's easy to do if your event is free; if it's not, you can still include tickets that must be "validated" and tell people how to confirm their purchase, online or off.
ID badge
Are you expecting a lot of guests who do not know each other to intermingle? Consider adding ID badges to your save-the-date package. This not only lends a sense of authority to each recipient, making your event more attractive, it also makes it easy for guests to break the ice once they arrive.
Follow-up postcard
Finally, consider sending a follow-up postcard to remind guests a few days before your event. It's a surefire way to increase attendance from those who let your first mailing slip their minds!
Ready to print your perfect save-the-date package? Do it for less with premium discount printing.