Designers: Are you looking for a cool side gig to drum up some extra holiday cash? You can print and sell your own holiday gift labels! Holiday gift labels don't get as much fanfare as greeting cards and wrapping paper, but nearly everyone uses them and there seems to be plenty of room in the marketplace for creative, unique gift labels people will want to buy. The following details how you can print and sell your own holiday gift labels to make extra money this season.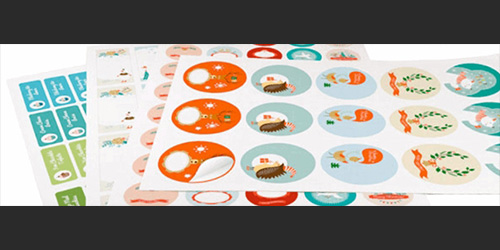 How to print your own holiday gift labels
Printing your own holiday gift labels is easy: start by downloading a free gift label template, which is a blank file set up in the proper size and resolution with print guides such as bleed lines, cut lines, and safe area. There are multiple gift label size and shape options, including rounded corner, circle, and oval; and each template is available in multiple formats (AI, PDF, PSD, InDesign) so you can use your favorite design software.
If you want to print holiday gift labels featuring unique shapes, you can consult PsPrint's custom printing team for custom die-cut printing options.
Once you download your selected template, simply open it in your design software and create your unique gift label design. Save it as a print-ready file, then upload it during the ordering process.
Finally, select printing options such as quantity, turnaround time, and optional UV coating – which adds a brilliant gleam and protective layer to your gift labels – then check out to print your artwork. That's all there is to it!
How to sell your own holiday gift labels
Printing is the easy part; selling your own holiday gift labels will take some legwork.
The first thing you need to do is determine your business model. Some options include:
Retail display
Direct-mail
Online sales
Distribution
Fundraisers
Here's a breakdown of each:
Retail display
In this scenario, you work out partnerships with individual retail stores, such as gift shops, to carry your gift labels. You might sell your gift labels directly to each store at a discounted, wholesale price; or, you might sell on consignment, in which case the store agrees to display your gift labels and you both get paid customers buy them.
You'll need to print lots of gift labels upfront, as well as display materials, to go this route. Printing higher volumes reduces your price-per-sheet and increases your profit margins but also requires you to assume greater risk.
Direct-mail
You can send postcards, catalogs, brochures/flyers, and sales letters to a well-targeted audience to motivate direct mail orders and/or online sales. This is a good strategy for niche gift label designs. Direct-mail orders allow you to print post-sale and minimize risk.
Online sales
You set up a website or go through an outlet such as Etsy, Ebay, or Amazon to sell your holiday gift labels. You can market via targeted ads and social media, as well as direct-mail and other print marketing. When you sell online, you can print post-sale and minimize your risk.
Distribution
Partner with distributors to get your gift labels in dozens of outlets at once; or, work with companies to get your gift labels featured in mail-order catalogs. In this case, you'll likely need to print lots of gift labels upfront.
Fundraisers
You can also sell custom holiday gift labels via fundraisers in which you split the proceeds with a non-profit organization, school, or youth group. They make the sales, you supply the gift labels, and you both earn money. This strategy also allows for post-sale ordering.
Explore each business model thoroughly to determine which is right for you; consider upfront costs versus printing on-demand, shipping and dropshipping, marketing investment, and your ultimate profit margin before choosing. Chances are, you can sell your own holiday gift labels via multiple channels.
Become a reseller
One great way to increase your profit margins is to become a reseller for PsPrint. Resellers enjoy 20% off non-sale prices and 5% off sale prices, lending competitive pricing you can use to your advantage.
Of course, the reseller program is also a great way for graphic designers to make extra money when designing custom holiday gift labels and other materials for clients. You get to charge the same as the printing company, with built-in profits for you.
Ready to score extra cash for the holidays? Print and sell your own holiday gift labels today!