Need a win at the ballots this November? Whether you're running for office, trying to pass a school levy, or want to influence voters on an important issue, banners can be powerful political motivators. The following details why banners work and how to use them on the campaign trail.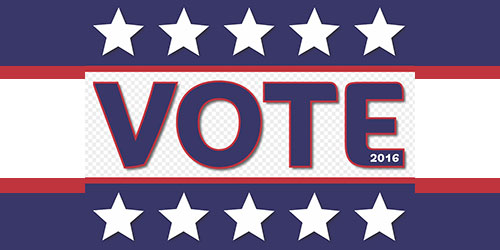 Why banners can help you win the election
Banners are similar to yard signs – but much larger. That means they can be seen and understood from a greater distance; and they can have a more powerful presence up-close. Good political banners state a simple message people can get behind, whether it's the name of a candidate and the office sought, a certain to vote on a particular issue, or the building of a new school facility.
Memorable icons or other images, large fonts, and simple, contrasting colors help your banners stand out. Consider a unique color combination that lends itself to your cause: attractive shades of red and blue, for example, or school colors. Keep your banners short and to the point, and list your website URL for people to visit if they want to learn more.
The large size and simple messaging afforded by banners makes them excellent political tools because they're easy to read and understand both up-close and from a distance, they have a powerful presence, and they reinforce political ideas through repetition: your banners should echo your yard signs, and they should be prominently placed in a variety of venues, as we'll discuss next.
How to use banners on the campaign trail
The following lists several places you can use banners to present your political messaging in a powerful way.
Supporters' yards
Many of your supporters likely face your yard signs toward the road, but banners can have greater impact – particularly when local celebrities and prominent households use them. Seek corner lots near high-traffic areas to place your political banners.
Buildings
You can rent space to place your banners on the sides of buildings; or, if you're supported by the building owner, you can probably get placement for free. Windows and storefronts are also good candidates for banner placement.
Along roadways
Find public areas along busy roadways to place your banners. Speak to property owners in the country who might be willing to let you place your banners on their land. Focus on the busiest roads first, then turn your attention to smaller roads often traversed by your constituents.
Bridges and railroad trestles
Overpasses, bridges, and railroad trestles are good candidates for political banner placement. You might not be able to get your banners placed on publicly-owned property, but railroads are privately-owned and might let you take advantage of the prominent placement their trestles afford – especially if your political ideologies align with their own.
Train, subway, and bus stations
Similarly, you can place your banners in transportation stations to put your message in front of travelers. Airports might allow this as well. In all cases, you'll likely need to rent space.
Public parks
Local parks might have areas in which you're free to place your banners. Check with your local parks and recreation office to find out what's available and where you're allowed to put your banners. Often, you can extend your reach beyond parks to intersections and roadways that are also owned by the public.
Events
Political rallies, athletic events, trade shows, business conferences, and other events present excellent opportunities for banner campaigns. This is especially true if your interests align with those of the event participants.
Ready to print banners to bolster your political campaign? Get discount banner printing today.
Featured image via Pixabay