Do you want to print custom holiday cards to send to friends and family, or send holiday cards to business clients this year but you're afraid you're too late? Don't worry – it's not too late to print holiday cards! Sending holiday cards transcends simple communication: Psychology & Aging reports that receiving Christmas cards increases feelings of happiness. Indeed, holiday cards and the happiness they deliver might very well be the best gifts you can give!
While it's not too late to print holiday cards, you do need to act fast to ensure delivery by Christmas. Many people suggest mailing holiday cards two to three weeks prior to Christmas day, so use the following tips to print personalized holiday cards before it's too late.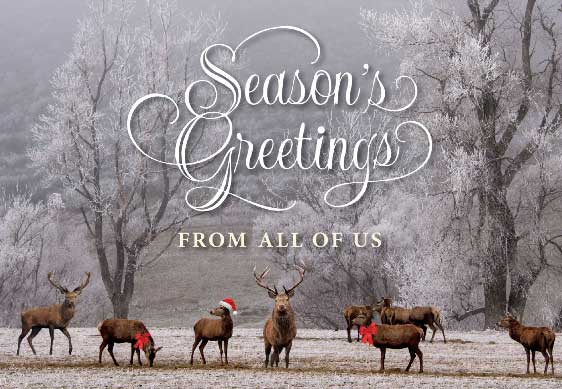 Season's Greetings free holiday card template
1. Use PsPrint's free online holiday card maker
Start by browsing the free holiday card templates available in the design library. Each template was crafted by a professional graphic designer, yet is completely customizable – no generic store-bought cards here!
Once you find the perfect template, you can choose its color scheme and size; then, open it in the online design tool, which makes it easy to:
Upload your own photos
Add your own text
Make layout adjustments
When you're done designing, you can download a free PDF to see how your holiday cards will look once printed. Approve your design, then select your holiday card printing options.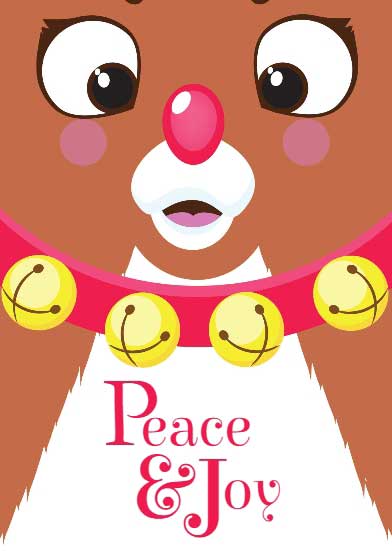 Holiday Friends free holiday card template
2. Choose your holiday card printing options
Once you've finalized your design, you can select printing options. You can print folded holiday cards, which offer traditional appeal and offer extra space for handwriting personalized messages; or, you can print flat holiday cards, which feature a modern look and can be sent in envelopes or sans-envelopes, postcard-style.
Other holiday card printing options include:
Paper stock (try 15-point velvet paper with soft-touch coating for an incredible tactile experience)
Scoring and folding
Quantity
Production turnaround (if you need them fast, opt for one-day printing)
You can also consider add-on's such as matching envelopes, address labels, and holiday envelope sealer stickers.
After you've selected your printing options, simply check out and your custom holiday cards will be queued for printing.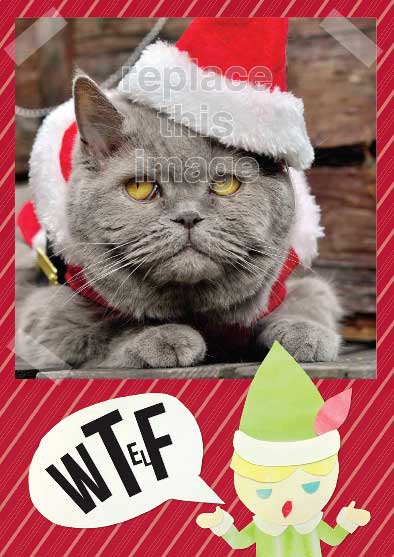 WTelF free holiday card template
3. Expedite delivery
When it comes to fast holiday card delivery, you have two options:
Next-day shipping
Direct mailing
With next day-shipping, your holiday cards will be shipped to your door the day after they're printed. You can then write personalized notes, stuff them in envelopes, address and seal them, and drop them off at the post office for delivery.
For even faster delivery, you can have PsPrint handle the mailing for you with direct-mailing services. All you need to do is upload a mailing list of your recipients' names and addresses, and your holiday cards will be placed in envelopes, addressed, and shipped directly to your recipients after printing.
End-to-end, you can create your own unique holiday cards and have them delivered to your loved ones or business associates in just a few days. Your timeline might look like this:
Dec. 7: Design your holiday cards with the online holiday card maker
Dec. 8: Production
Dec. 9: Receive your holiday cards
Dec. 10: Add handwritten notes, place in envelopes, and mail
Dec. 13 to 15: All holiday cards delivered to recipients via USPS
As you can see, you can go from design to delivery in about a week, which means you can start the process as late as December 15 to ensure your holiday cards arrive before Christmas.
It's not too late to print holiday cards. Save money when you get started today with premium discount holiday card printing services.