Your letterhead design lends visual suggestions that help customers intuitively understand your values and benefits. It's the reason many companies invest in professional letterhead design. But there's more to letterhead than compelling design, which is why you should lend distinction to your brand by printing your letterhead on linen stationery.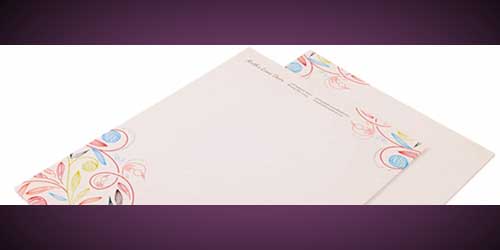 What is linen stationery?
Linen stationery is a thick, textured paper stock that grants your brand a bold, sophisticated look that won't go unnoticed by your direct-mail recipients. Research has shown that thicker, heavier paper stocks along with tactile textures imbue a sense of trust that can lead to more sales.
In short, linen stationery feels great in customers' hands and influence purchases.
It makes your message stronger and adds credibility to your brand. It also differentiates you from competitors, so your brand is easier to remember when customers are ready to buy. If you want to print letterhead that promotes a cohesive brand image, linen stationery is an excellent choice.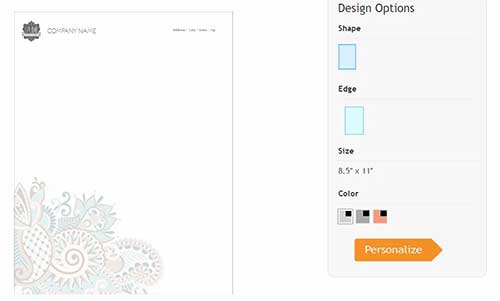 Linen stationery printing options
You can get linen stationery in either 80 lb. brilliant white or natural white. As its name suggests, brilliant white is bright and a great candidate for printing multi-color letterhead. Natural white has a creamy appearance that's perfect for solid-color designs.
Your brand image is affected by your choice of brilliant or natural white linen stationery. Bright, colorful brilliant white letterhead paper stock is great for cutting-edge, high-tech, fun, or even flamboyant brands; while elegant natural white letterhead is best-suited for traditional, strong brands with an air of sophistication. Of course, talented designers can always break the mold and craft creative ways to represent your brand with either style of letterhead.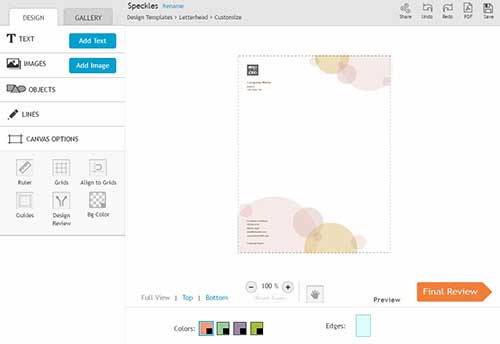 Do I need professional design to print linen stationery?
Professionally-designed letterhead has enormous impact on how your brand is perceived, whether you're printing letterhead, envelopes, or business cards. So yes, you need professional design to print linen stationery. The good news is you can get it free!
Use PsPrint's free letterhead design library and online design tool to customize your own professionally-designed letterhead. Here's how it works:
STEP 1

: Choose a free

letterhead template

. Each template was created by a professional graphic designer to give your brand a visual edge. Most have multiple color schemes for cohesive branding.

STEP 2

: Customize your

letterhead template

. PsPrint's free online letterhead design tool lets you point-and-click your way to a custom design. Add your own logo, name, contact information, images, and more. You can even add shapes, lines, and colors to your design.

STEP 3

: Review a free downloadable PDF proof, then approve your letterhead design for printing. It's the fastest and easiest way to professionally-designed letterhead on a budget, no designer required!
Stand out from competitors, make a powerful impression on customers, and earn more sales with linen stationery. Print linen stationery today!