Here's a novel way to market your business to hundreds or even thousands of potential customers:  Print door hangers for local hotels.  It works like this: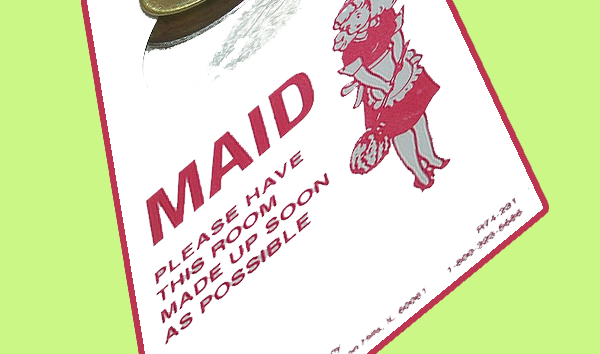 Image use Creative Commons license via Flickr by ATIS547
Contact hotels
Contact hotels and offer to print their "Do Not Disturb/Maid Service Requested" door hangers.  You'll handle the design and printing, and include their brand colors and logo.  All they have to do is make sure each room gets a door hanger.  It's an expected convenience that lets them better serve their guests while eliminating the expense.
Make your pitch
Include a coupon for your product or service on the bottom of your door hangers.  Promote anything you want:  a specific discount, your website or your brand in general.
Partner up
If the initial investment to supply a hotel for, say, three months is prohibitive, consider asking the hotel to cover half the printing cost.  Or, partner with a noncompeting business that shares your customer base and split the cost and ad space. Consider starting with smaller, locally owned hotels to get your feet wet; then approach major chains.  Keep in mind that brands will expect your advertisements to be tasteful and your advertisements to fall within their themes.  Target hotels that cater to your customer base and market along the same unique selling points to make them feel more comfortable with your partnership.  The more your core values align, the better chance you'll have to get your door hangers in front of potential customers. You can ask customers to follow up immediately with their laptops or mobile devices; or, they can tear off a perforated coupon to use on their trip or when they return home.  Any business can take advantage of this attention-getting marketing strategy, but a few obvious businesses that come to mind include:
Tourist attractions
Museums
Waterparks/amusement parks
Zoos
Restaurants and nightclubs/bars
Specialty retail shops
Malls/outlet malls
Golf courses
Travel services
Business services
Car rentals
Airlines
Massage therapists
Salons
When you get creative with your marketing, you can identify opportunities to reach your target customer base in areas your competitors aren't.  Not only does this increase your exposure, it means a cheaper initial marketing investment and increased return on investment.  Printing door hangers for hotels is an excellent way to achieve this.