Want to market your products and services on Earth Day? Great! You can easily reach your target audience with posters, flyers, direct-mail postcards and – wait! Stop the presses! Isn't all this print marketing material sacrilegious on Earth Day? Doesn't go against the very fiber of what Earth Day is all about – preserving the ecosystem? How can you effectively market your business on Earth Day without destroying the environment? Well, the fact is that printing marketing materials isn't nearly as damaging as some would have you believe. In fact, it's easy to justify printing Earth Day marketing materials when you know the true facts. The following details why it's OK to print Earth Day marketing materials.
Print is green
Let's start by examining several statistics published on PrintIsBig.com:
The paper industry plants three times more trees than it cuts
60 percent of the power used to produce paper is supplied by on-site renewable energy sources
Greenpeace Co-founder Dr. Patrick Moore says "To address climate change, we must use more wood, not less. Using wood signals the marketplace to grow more trees."
The fact is that the paper and printing industries are among the most sustainable businesses in the world. It simply does not make sense for these enormous industries to purposely deplete their own resources. There are more forests in the U.S. today than there were 50 years ago in large part because the paper and printing industries work hard to outpace their resource consumption threefold.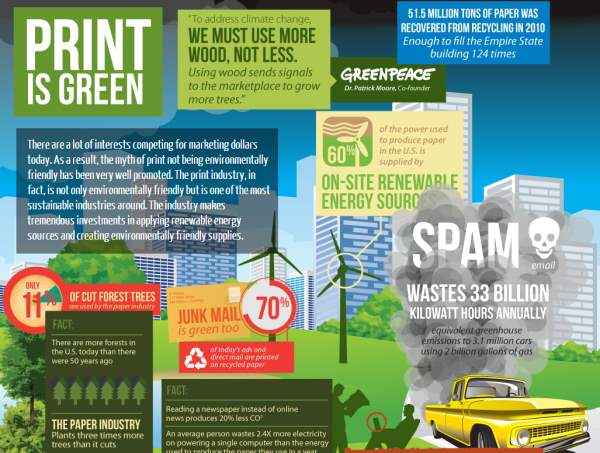 Eco-friendly printing companies make the difference
The facts show that printing marketing materials ultimately creates a natural resource surplus, but you can take your green agenda a step further by choosing an eco-friendly printing company. Eco-friendly printing companies feature:
recycled paper stocks, which minimize new resource consumption
soy-based inks, which release far fewer volatile organic compounds (VOCs) than petroleum-based inks; plus, they produce more vivid colors
staggered distribution centers, which minimize shipping distances nationwide and associated gas emissions
When you choose an eco-friendly printer to handle your Earth Day print marketing, you can rest assured you're not making a negative impact on the environment.

Photo credit Happy Days Photos and Art via Flickr Creative Commons license
That's all good, but e-marketing is still more eco-friendly, right?
Wrong. In fact, e-marketing can actually have a detrimental effect on the environment. Consider the following facts from PrintIsBig.com:
spam email wastes 33 billion kilowatt hours annually, which is the equivalent of greenhouse gas emissions from 3.1 million cars and 2 billion gallons of fuel
the average person wastes 2.4 times more energy powering a single computer than the energy used to produce the paper they use each year
It's important to understand that even though something might be delivered electronically, it still uses considerable energy resources – those energy resources often come from non-green energy such as coal electric plants. At the same time, forestry is the most renewable energy source in the world.

Photo credit Sebastian Fuss via Flickr Creative Commons license
Don't forget the economy
We would never say that the ends justify the means in terms of destroying the environment, but given the printing industry's overall positive impact on the environment it's important to understand the economic impact print marketing has. Without effective print marketing, millions of businesses would fail to connect with customers, who are the infrastructure of the entire American economy. Without print marketing, we risk economic collapse. Without a powerful economy, immediate survival takes precedence over sustainability, and the green agenda is lost. If you want to promote your business on Earth Day, print marketing might be your most effective tool. Armed with these facts, you can not only justify print marketing on Earth Day, you can't justify not taking advantage of the power of print marketing on Earth Day. Choose an eco-friendly printing company, contribute to the economy, and put food on the table for your family. And after dinner? Plant a tree.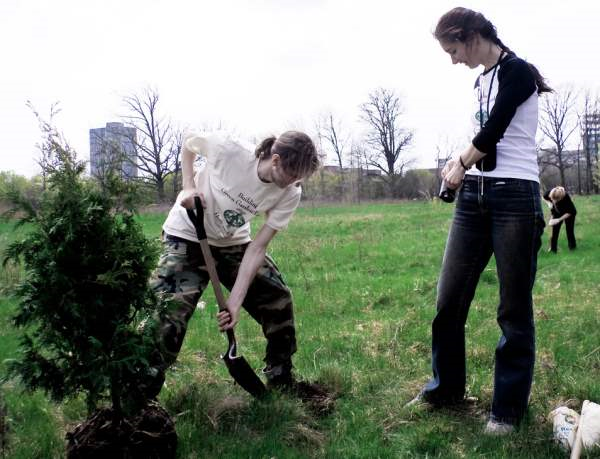 Photo credit Alex Indigo via Flickr Creative Commons license