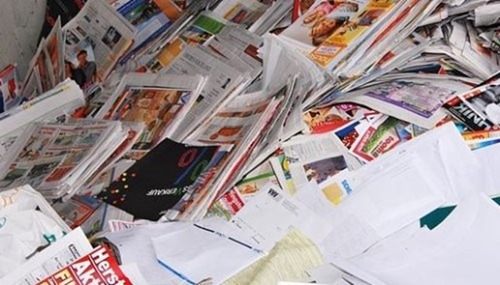 You want to print eco-friendly marketing materials, but it's easy to be confused by all the "recycled" labels that can be applied to paper stocks. Some include "recycled content," some are made from recycled "pre-consumer waste," and still others are made from recycled "post-consumer waste." If your business has a green agenda, it's important to make sure your paper stock is really recycled. So, which type of paper stock should you print on?
Is your paper stock really recycled?
In short, yes, if your paper stock carries the "recycled" label it's made from recycled paper. As you might have guessed, however, there's more to it than that. In order to maximize your eco-friendly impact, you need to compare two elements of recycled paper: the content of recycled material, and the type of recycled material.
Content of recycled material
Regardless whether it's labeled with recycled content, pre-consumer waste, or post-consumer waste, the actual content of recycled material in your paper stock plays a major role in its eco-friendly status. Paper comprised of 50 percent recycled material, for example, is also comprised of 50 percent non-recycled material. The closer you get to 100 percent recycled paper stock, the more eco-friendly your printing.
Type of recycled material
As mentioned, there are three main types of recycled material: 1. Pre-consumer waste: material that is never used by consumers before being recycled; for example, paper trimmings that fall on factory floors 2. Post-consumer waste: material that was used by consumers; for example, newspapers, magazines, even old flyers and business cards 3. Recycled content: this label simply means a product has some recycled content in it, which could be a combination of both pre-consumer and post-consumer waste
Which recycled paper stock is best?
Though all recycled paper stocks are better than non-recycled paper stocks, the most eco-friendly paper stock is comprised of 100 percent post-consumer waste. Post-consumer waste is considered better for the environment than pre-consumer waste because it's more likely to make its way to landfills. That's because consumers are more likely to throw things away, while manufacturers are always looking for ways to increase revenues by reusing otherwise-discarded materials (in fact, some don't even consider pre-consumer waste to be recycled). If you want to print eco-friendly marketing materials, the best option is to print on paper stock made from 100 percent post-consumer waste. PsPrint offers premium-quality 13 point matte cover stock made from 100 percent post-consumer waste for business cards, flyers, brochures, and more – go green with print marketing!