Want to send postcards that yield outstanding response rates? This installment in PsPrint's "The Perfect Direct-Mail Postcard" series covers postcard mailing best practices (for more great postcard marketing tips, see parts I through IV: planning your postcard, postcard copywriting, postcard design and postcard printing).
The importance of your mailing list
The 40/40/20 rule of direct-mail marketing states that 40 percent of your success hinges on the quality of your mailing list. That means if you want to run a successful direct-mail postcard campaign, you have to have a great mailing list. What makes a mailing list great? When it's comprised only of those individuals (or companies) that match your best-customer demographics. That is to say, your mailing list should be full of people who are likely to buy from you. Many businesses maintain in-house mailing lists, which are perfect for postcard marketing because they include people who are already customers. If you want to bring customers back to buy again, use an in-house list. If you don't have an in-house mailing list or you want to introduce your business to new customers, you'll need to rent a mailing list. PsPrint, for example, lets you build your own mailing list based on the demographics you provide, including:
geographic location
gender
income
education
marital status and children
age
buying habits
and more
A good strategy for creating your mailing list is to develop customer profiles, or even "best customer" profiles. Consider your top buyers, then make lists of their demographics. Compare your demographic lists to identify trends and come up with a single customer profile – for example, married women aged 30 to 40 with children and a household income between $75,000 and $120,000. When you build your mailing list, simply specify those demographics to create a list full of customers who are likely to buy from you. Don't overlook the importance of your mailing list – along with your offer, it's the most critical indicator of postcard marketing success. Be sure to devote the time and attention needed to create a great mailing list that will help you profit from postcard marketing.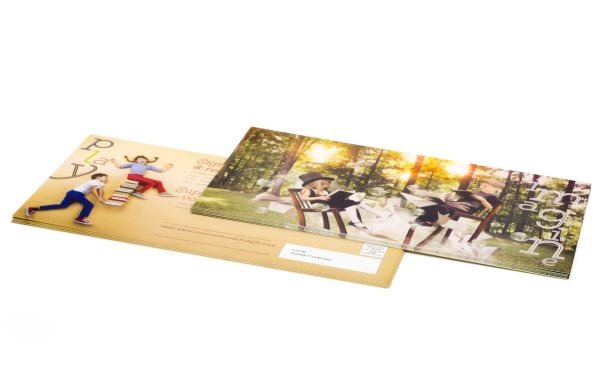 Mailing lists vs. EDDM postcards
A great mailing list is a necessity for most businesses, but some can take advantage of EDDM (Every Door Direct-Mail) postcards instead. With EDDM postcards, you don't create a mailing list based on demographics; instead, your intent is to send postcards to every resident or business within a defined geographic area. EDDM marketing a price break from the Post Office since there's less sorting involved. Your business is a good candidate for EDDM postcard marketing if you sell a product or service nearly everyone needs in an exclusively local geographic area. Grocery stores, gas stations, mechanics, carpet cleaners, clothing retailers and department stores, for example, all routinely engage in EDDM postcard marketing.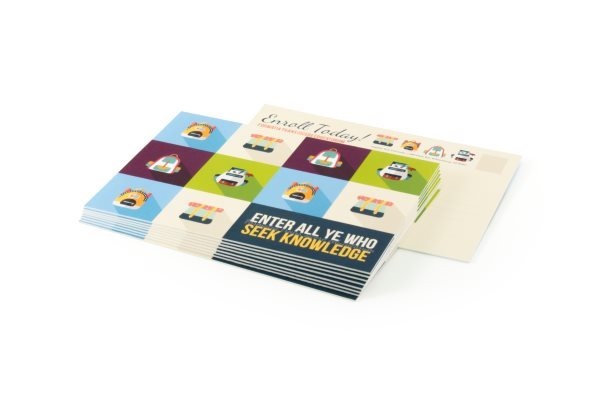 Bulk rates and Indicias
You can get a price break, called a bulk rate, from the Post Office if you're sending 200 or more postcards – but first, you'll need an Indicia. You can set up a custom Indicia with the Post Office; however, it will require a deposit. As the USPS puts it, having an Indicia – or Permit Imprint – is like having a checking account at the Post Office. When you mail in bulk, your account will be deducted the postage. If you don't want to deal with the hassle of getting your own Indicia, you can use PsPrint's Indicia. This is the simplest and most cost-effective way to mail postcards in bulk. You'll pay for postage upfront when you checkout – and only for the postage you'll accrue, no deposit required – so your direct-mail postcards can be printed and mailed directly from your printing company.
Direct-mail postcard one-stop shop
The most economical and efficient way to handle postcard mailing is to have your printing company do everything. PsPrint, for example, not only lets you use its Indicia, it can apply addresses to all your postcards and send them out the door, thereby eliminating shipping fees and requiring you to address and /or mail your own postcards. In fact, you can even have your entire postcard designed, printed, addressed, postage-applied, and mailed to a list you build with PsPrint completely hands-off. As a full-service postcard marketing provider, PsPrint makes it fast and easy to deploy a successful postcard marketing campaign. Start planning your postcard marketing campaign now.