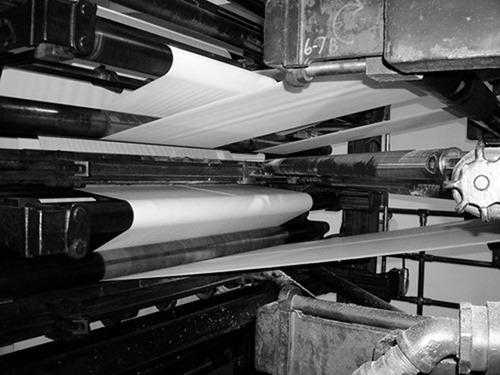 If you want a postcard that showcases the quality of your brand at an ROI-friendly price point, you need to invest in premium postcard printing at discount prices. This installment in our Perfect Postcard series reveals postcard printing best practices; see parts one through three to learn more about postcard planning, copywriting, and design.
Postcard paper stock
The paper stock you select for your postcards says a lot about your brand and can influence customer purchasing decisions. Thick, heavy paper stocks with pleasing textures are proven to lend a favorable impression of your business. Any of the following paper stocks are great choices for high-quality postcards:
16 point C2S gloss cover: thick, durable, with a glossy finish on both sides
15 point velvet: a soft-touch coating gives this paper stock an air of elegance
15-point velvet: velvet, without the soft-touch, offers a semi-matte finish
14-point C2S or C1S gloss cover stock: thick and glossy on both sides or just one (perfect if you want customers to be able to write on the back)
13-point matte cover: a matte finish makes your postcards seem sophisticated
13-point 100% recycled matte: perfect for eco-friendly postcard printing
Ultra postcard stock: triple-thick with two outer layers and an interior core paper that gives your postcards a band of color around the outside
Which paper stock should you choose for your postcards? Each of the listed options is good, so pick the one that best represents your brand and the message you're delivering. Bold, adventurous brands might favor thicker, glossy stocks; while elegant, sophisticated brands might prefer velvet or matte stocks. Ultra postcard stock makes a powerful brand statement, while recycled matte paper stock illustrates your green agenda.
Postcard inks
Traditionally, postcards are printed with petroleum-based inks. They look great, but they're not eco-friendly as they release a lot of volatile organic compounds (VOCs) during the drying process. Soy-based inks, or simply soy inks, are better alternatives. Not only do soy inks emit far fewer VOCs (which makes them eco-friendly), they're capable of producing more vibrant colors than petroleum inks. Thus, soy inks allow you to print beautiful, eco-friendly postcards without sacrificing quality.
Size and finishing
What size should your postcards be? This is a question you'll answer during the design phase, but it has enormous impact on whether your postcards are noticed by prospective customers. Standard 4-in. by 6-in. postcards are good, but bigger is always better. You can print postcards sized up to 6-in. by 11-in. to practically guarantee they won't be ignored. You should also consider finishing your postcards with a high-gloss UV coating, which adds a brilliant, premium-quality sheen to your designs. UV coating also makes your postcards thicker and offers protection against scratching and dulling when it rubs against other mail. In short, UV coating allows you to deliver the best possible presentation, which in turn increases the chances your postcard will be read and responded to.
Quantity and discounts
When it comes to direct-mail postcard marketing, ROI is the name of the game. You can maximize your ROI by printing brilliant postcards that get noticed, and also by printing in volume. The more postcards you print at one time, the lower your cost-per-piece, and thus the higher your ROI. This isn't to say you should print more postcards than you need, but you should definitely print as many postcards as you know you'll use in a single run. Finally, keep an eye out for postcard printing discounts – which can significantly increase your return on investment. PsPrint, for example, routinely offers discount postcard printing at rates up to 60 percent off. Print premium postcards at steep discounts now!