Graphic designers, gather 'round. If you want to design for high-paying clients, it is paramount that your own marketing materials are striking, stunning and beautiful. They must be eye-catching and clever, and reveal something about the type of work you excel at or your design philosophy. You can't settle for average personal business cards; no, yours must be of premium quality in both design and concept.
Your personal business cards tell the best clients why you're the best designer for the job.
Alas, many designers have no problem developing creative concepts for their clients' projects, yet struggle to define themselves through their artwork. If this describes you, you can glean inspiration from my picks of the litter for the top five clever personal business cards for graphic designers. Enjoy!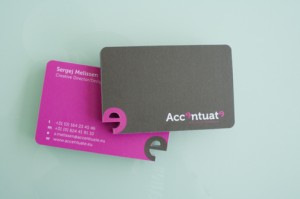 Sergej Mellisen's Accentuate business cards take advantage of a unique die-cut pattern that doubles as brand identity. It catches the eye for sure, but it also plays on the brand name with accentuating the "e." Perhaps you can incorporate a similar concept into your personal business cards.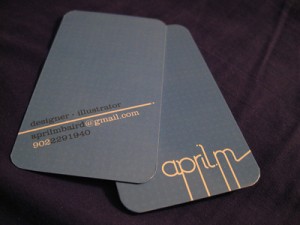 April M. Baird combines clean simplicity with the unbridled creativity of a graphic designer in a rounded corner die-cut business card. The card is mostly white space (or black, as it is), helping key contact information stand out. And the "AprilM" signature on the front mimics running paint with straight lines, so the look remains clean – not sloppy.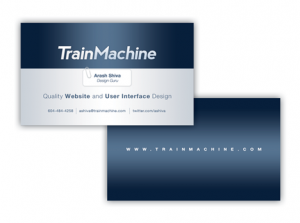 There is no doubt that Arash Shiva from TrainMachine specializes in designing web interfaces, as this personal business card clearly depicts. The entire card is laid out like a web page, with clean web-like graphics and even a lower "navigation menu" filled with separated contact information.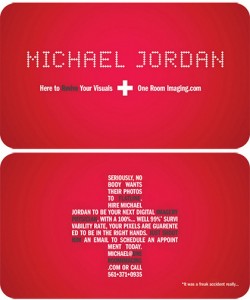 Photo retoucher Michael Jordan makes good use of a well-known name (a la the basketball superstar) by making it big, bold, front and center on his personal business card. But he doesn't simply rest on another's laurels for attention – the entire theme of this business card is of a photo doctor who will take your so-so images and turn them into masterpieces. I love how pertinent information is detailed on the back of the card, constrained in the shape of a medic's cross.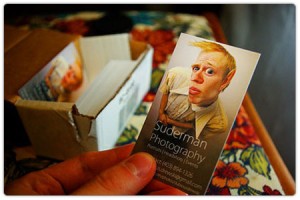 Andy Suderman says he's looking for clients who like to take risks, and his personal business card for Suderman Photography echoes the sentiment with a photo of himself, morphed in Photoshop. This particular card has earned buzz from several critics, because it is bold and attention-getting. The business card might appear a bit weird, but it exudes the kind of cool confidence that high-profile clients crave.
What are your favorite personal business cards? Share them with us here!