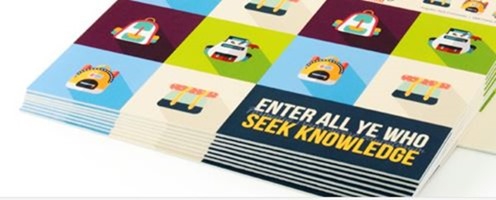 When it comes to direct-mail postcard marketing, you know the quality of your offer and mailing list are the primary factors behind success – but did you know your choice of postcard paper stock can play a critical role as well? In fact, it's been shown that customers are directly influenced by how much your paper weighs and feels; and heavier, sleeker paper stocks make customers more likely to trust your brand and buy from you. The following offers an overview of the postcard paper stocks PsPrint offers so you can choose the one that best represents your brand and lends itself to direct-mail postcard marketing success.
16-Point C2S Gloss Cover
This thick, heavy postcard paper stock features a glossy finish on both sides that helps your postcards stand out. It's perfect for modern, cutting-edge brands. The glossy finish is attractive and gives your postcards a nice sheen, but it doesn't work well with ballpoint pens.
15-Point Velvet
Available with soft-touch coating that adds a super-smooth finish that's visually attractive and delivers a soothing tactile sensation, velvet postcard paper is perfect for brands that want to promote luxury and sophistication.
14-Point C2S and C1S Cover
These are premium postcard paper stocks that feature a glossy coating on two sides or just one, respectively. The C1S version makes it easy to write on the uncoated side, so you can turn your postcards into response cards. PsPrint's 14-Point C2S and C1S postcard papers are excellent options that allow you to print postcards at economical prices without sacrificing quality.
13-Point Recycled Matte Cover
If being eco-friendly is important to your company, you can't go wrong with 13-Point Recycled Matte. Thick enough to lend a solid impression and featuring an elegant sheen, this paper stock (like all other PsPrint postcards) is printed on with soy-based inks, which are far more environmentally-friendly than VOC-releasing petroleum-based inks.
Ultra Postcards
The ultimate postcard paper stock, ultra postcards are printed on triple thick 120-lb. white eggshell-textured paper and feature a core inside paper that adds an attractive band of color to your postcards. The total thickness is 165 to 170-lb., depending on which color you select for the core, making ultra postcards the thickest and heaviest available. The pleasant eggshell texture adds to their allure and makes ultra postcards perfect for companies that want to get noticed with a big, bold presentation. All of these postcard paper stocks are excellent options; pick the one that best matches your brand, campaign, and budget to print postcards that make a powerful impression on potential customers. Compare postcard printing options now!