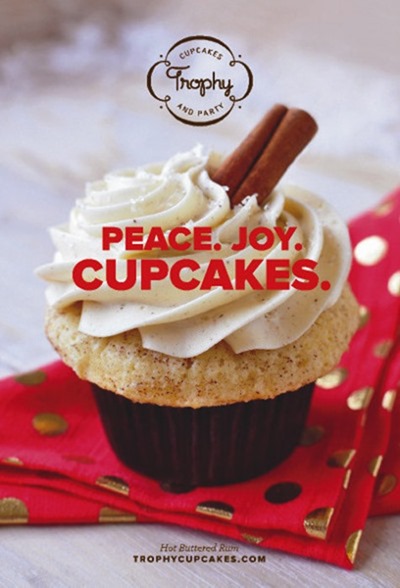 Postcard for Trophy Cupcakes and Party
Do your postcards suffer from TMI – Too Much Information? A lot of postcards do, as inexperienced marketers try to give potential customers every possible reason to respond. The best postcards combine attention-getting design, compelling copy, a great offer, and targeted distribution to motivate response. That means succinct copy that resonates with customers. The following will help you determine whether your postcards suffer from TMI, and how to fix them.
Too many ideas = TMI
Too much information turns customers off. When your postcards suffer from TMI, they distract customers with messages that pull them in different directions. For example, let's say you have two different offers you want to present to customers. You might try to save money by placing both on a single postcard. However, this is too much information – customers will be conflicted on which deal is best, which lessens the impact of each individual promotion and decreases response. It also dilutes your mailing list by forcing you to target a broader audience (to cover likely responses for both promotions), thereby reducing response.
Focus on your message
A better strategy would be to develop two different postcards, each aimed at different audience segment. This strategy would allow your postcard to fully explore the benefits of each promotion and be devoted to motivating a single, desired response. Customers aren't confused, and they're well-targeted: each postcard is mailed to a list of people most likely to respond to its individual promotion. The increase in ROI negates and exceeds the savings of printing a single postcard.
Do your postcards suffer from TMI?
Do your postcards suffer from TMI? They do if they attempt to market more than one central promotion. They might also suffer from TMI if your word count is too high – standard postcards can accommodate 100-150 words at most, and many postcards are highly successful with far fewer words. If you want to launch an ultra-successful direct-mail postcard marketing campaign, focus your copy on motivating response for a singular promotion; then, work on keeping your copy short and powerful. The more you can say with fewer words, the better. Use postcard copy as a tool to create desire, reveal benefits, tell customers how you'll solve their problems and make their lives better. Sweeten the deal with a limited-time special offer. Then, motivate customers to take the next step in the purchasing process with a clearly-defined and compelling call to action. And, sometimes, all you need is a brief line of text and a great image, such as in our example above. Anything else is a distraction. Start planning your next postcard marketing campaign now!