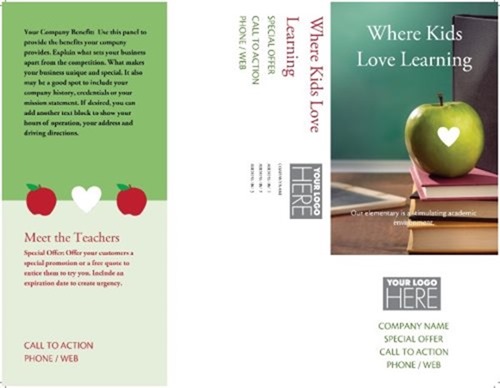 Most schools offer specialized programs for students and parents, both in-school and extracurricular. If you want to increase attendance for your school programs, you need to market them – and brochures are perfect for marketing school programs. Brochures can be sent home with students, handed out to parents, and even sent via direct-mail to market school programs such as:
tutoring
band
choir
sports
student insurance
clubs (art, glee, drama, photography, etc.)
open enrollment
food services and meal benefits
transportation services
alumni foundations and programming
tuition assistance
financial aid
career path programs
guidance and mentoring programs
after-school programs
advanced placement programs
parent-teacher associations
Brochures are versatile, effective, attractive, and cheap to print and distribute, making them perfect for marketing school programs.
How to print brochures to market school programs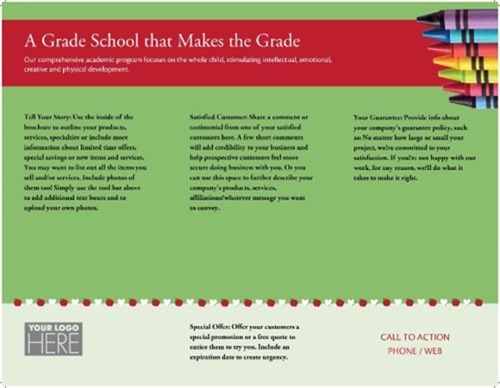 STEP 1: Start with a template. If you (or your students) want to design a brochure from scratch, you can download a free brochure layout template from PsPrint. These templates will help you make sure your brochure artwork is print-ready. A quicker, simpler approach is to customize an existing template using PsPrint's Design Library. Here, you can select a professional design and customize it with your school logo, colors, text, and photos. It's the fastest way to get a professional, custom brochure design in minutes, and it's completely free to use. STEP 2: Once your design is complete, simply choose your paper stock, finishing options, brochure fold type, and quantity. If your school has an eco-friendly policy, you can even print attractive brochures on 13 point 100% recycled matte cover stock. STEP 3: If you will be mailing your brochures, you can let your online printing company do the heavy work. Upload your mailing list and PsPrint will inkjet addresses on your brochures, apply postage, and mail them out for you. If you don't want mailing services, your brochures will be printed and shipped to your school in a few days, according to the production and shipping schedules you select. School programs provide excellent value to students and parents, but they need to know about your school programs in order to enroll. Start planning your school program brochures today!